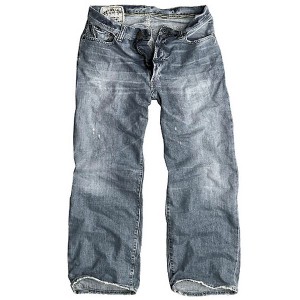 Environmental stability, aka, Green, is just starting. Most are still in reluctant compliance mode, hoping beyond hope that this newest of corporate initiatives dies on the vine, that it's just another corporate initiative. Wrong. Very wrong. It's the way we're going to grow our business; it's the way we're going to make money. It's time to open our minds, grab Green by the throat, and shake it. Green is here to stay, and Green will demand we change our thinking, will make us see our problems differently, will require we dismantle our intellectual inertia, will require innovation.
Pretend you're a manufacturer of jeans, the blue ones, the ones that feel so good when you put them on, the ones you'd like to wear to work if you could. (Maybe that's just me.) Year-on-year your innovation efforts focus on adding pockets then removing them, adding holes then removing them, zippers here then there, dark wash then light, baggy then tight, and yellow stitching than red. What else can a jean innovator do?
Corporate sends the memo: "We're going Green." Green jeans. They hire the best sustainability consultants and you, the jean innovator, sit through the sustainability audit results. Their recommendation – reduce carbon footprint: use materials that consume less energy, reduce electricity in your factories, minimize distribution's fuel costs, and reduce travel miles of your sales folks. Brilliant. Whatever we paid these guys, it was too much. But then they twist your brain. The carbon footprint from the use of your product dwarfs everything else. Your customers generate a massive carbon footprint when they wash and dry your jeans, and you have no control over it. Your jeans are made once and washed and dried countless times. Whoa. Your eyes roll back in your head. What's a jean innovator to do? First thing – forget about the stupid pockets. Next, figure out how to reduce the carbon footprint generated by your customers. Define the problem and innovate. But what's the problem?
Why do folks wash their jeans? The obvious answer – they're dirty. Let's figure a way to prevent jeans from getting dirty, right? No. The real answer – they stretch, they get baggy and don't fit right; so we wash them to tighten things up. We wash CLEAN jeans because they get baggy, not because they're dirty. Let's fix that.
Believe it or not, there are many likely innovative solutions to make jeans de-baggy themselves, but that's not the point. The point is we must innovate on jeans that reconfigure, and must not innovate on keeping jeans clean (though we may innovate on that down the road) and must not innovate on pockets, zippers, and stitching.
Green shaped our innovation work. We now have Green jeans that feel good and spring back after wearing and fit great on day two – no washing required. We now have Green jeans that save customers time and money while flattering their backside. But here's the point – we would have never invented de-baggying jeans without opening our minds to Green as a way to grow our business, to Green as a way to make money. Reluctant compliance won't get us there. Grab Green by the throat and shake it…before your competitors do.
One Response to "Green Jeans Drive Innovation"