Archive for the 'Design for Six Sigma' Category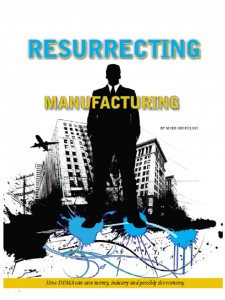 For too long we have praised financial enterprises for driving economic growth knowing full well that moving and repackaging financial vehicles does not create value and cannot provide sustainable growth. All the while, manufacturing as taken it on the chin with astronomical job losses, the thinnest capital investments and, most troubling, a general denigration of manufacturing as an institution and profession. However, we can get back to basics where sustainable economic growth is founded on the bedrock of value creation through manufacturing.
Continuing with the back-to-basics theme, manufacturing creates value when it combines raw materials and labor with thinking, which we call design, to create a product that sells for more than the cost to make it. The difference between cost (raw materials, labor) and price is profit. The market sets price and volume so manufacturing is left only with materials and labor to influence profit. At the most basic level, manufacturing must reduce materials and labor to increase profit. We can get no more basic than that. How do we use the simple fundamentals of reducing labor and material costs to resurrect U.S. manufacturing? We must change our designs to reduce costs using Design for Manufacturing and Assembly (DFMA).
The program is typically thought of as a well-defined toolbox used to design out product cost. However, this definition is too narrow. More broadly, DFMA is a methodology to change a design to reduce the cost of making parts while retaining product function. Systematic DFMA deployment is even broader; it is a business method that puts the business systems and infrastructures to deploy DFMA methods in place systematically across a company. In that way, it is similar to the better known business methodologies lean, Six Sigma and design for Six Sigma.
Click this link for the full story.
a
Click this link for information on Mike's upcoming workshop on Systematic DFMA Deployment