Archive for the 'How To' Category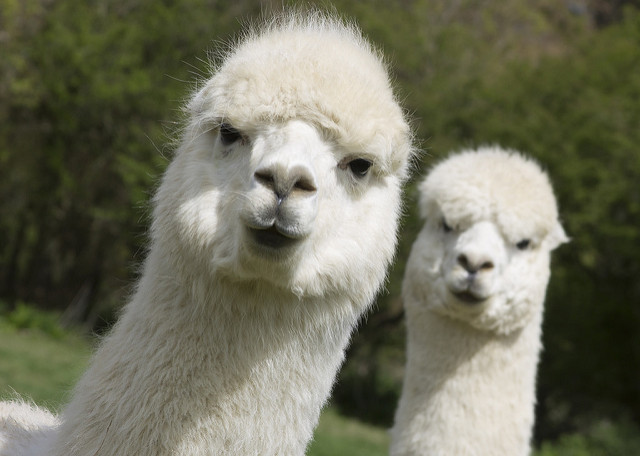 It's a challenge to prioritize and choose innovation projects. There are open questions on the technology, the product/service, the customer, the price and sales volume.  Other than that, things are pretty well defined.
But with all that, you've still go to choose.  Here are some questions that may help in your selection process
Is it big enough? The project will be long, expensive and difficult. And if the potential increase in sales is not big enough, the project is not worth starting. Think (Price – Cost) x Volume. Define a minimum viable increase in sales and bound it in time. For example, the minimum incremental sales is twenty five million dollars after five years in the market. If the project does not have the potential to meet those criteria, don't do the project. The difficult question – How to estimate the incremental sales five years after launch? The difficult answer – Use your best judgement to estimate sales based on market size and review your assumptions and predictions with seasoned people you trust.
Why you? High growth markets/applications are attractive to everyone, including the big players and the well-funded start-ups. How does your company have an advantage over these tough competitors? What about your company sets you apart? Why will customers buy from you? If you don't have good answers, don't start the project. Instead, hold the work hostage and take the time to come up with good answers. If you come up with good answers, try to answer the next questions. If you don't, choose another project.
How is it different? If the new technology can't distinguish itself over existing alternatives, you don't have a project worth starting.  So, how is your new offering (the one you're thinking about creating) better than the ones that can be purchased today? What's the new value to the customer? Or, in the lingo of the day, what is the Distinctive Value Proposition (DVP)? If there's no DVP, there's no project. If you're not sure of the DVP, figure that out before investing in the project. If you have a DVP but aren't sure it's good enough, figure out how to test the DVP before bringing the DVP to life.
Is it possible? Usually, this is where everyone starts. But I've listed it last, and it seems backward. Would you rather spend a year making it work only to learn no one wants it, or would you rather spend a month to learn the market wants it then a year making it work? If you make it work and no one wants it, you've wasted a year. If, before you make it work, you learn no one wants it, you've spent a month learning the right thing and you haven't spent a year working on the wrong thing. It feels unnatural to define the market need before making it work, but though it feels unnatural, it can block resources from working on the wrong projects.
There is no foolproof way to choose the best innovation projects, but these four questions go a long way. Create a one-page template with four sections to ask the questions and capture the answers. The sections without answers define the next work. Define the learning objectives and the learning activities and do the learning. Fill in the missing answers and you're ready to compare one project to another.
Sort the projects large-to-small by Is it big enough? Then, rank the top three by Why you? and How is it different?  Then, for the highest ranked project, do the work to answer Is it possible?
If it's possible, commercialize. If it's not, re-sort the remaining projects by Is it big enough? Why you? and How is it different? and learn if It is possible.
Image credit – Ben Francis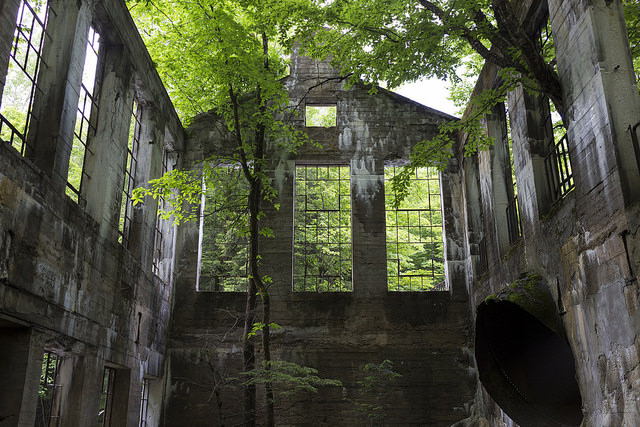 If you're trying to innovate within a successful company, I have one word for you: Don't.
You can't compete with the successful business teams that pay the bills because paying the bills is too important.  No one in their right mind should get in the way of paying them.  And if you do put yourself in the way of the freight train that pays the bills you'll get run over.  If you want to live to fight another day, don't do it.
If an established business has been growing three percent year-on-year, expect them to grow three percent next year. Sure, you can lather them in investment, but expect three and a half percent. And if they promise six percent, don't believe them. In fairness, they truly expect they can grow six percent, but only because they're drinking their own Cool-Aid.
Rule 1: If they're drinking their own Cool-Aid, don't believe them.
Without a cataclysmic problem that threatens the very existence of a successful company, it's almost impossible to innovate within its four walls. If there's no impending cataclysm, you have two choices: leave the four walls or don't innovate.
It's great to work at successful company because it has a recipe that worked.  And it sucks to work at a successful company because everyone thinks that tired old recipe will work for the next ten years. Whether it will work for the next ten or it won't, it's still a miserable place to work if you want to try something new. Yes, I said miserable.
What's the one thing a successful company needs? A group of smart people who are actively dissatisfied with the status quo. What's the one thing a successful company does not tolerate? A group of smart people who are actively dissatisfied with the status quo.
Some experts recommend leveraging (borrowing) resources from the established businesses and using them to innovate. If the established business catches wind that their borrowed resources will be used to displace the status quo, the resources will mysteriously disappear before the innovation project can start. Don't try to borrow resources from established businesses and don't believe the experts.
Instead of competing with established businesses for resources, resources for innovation should be allocated separately. Decide how much to spend on innovation and allocate the resources accordingly. And if the established businesses cry foul, let them.
Instead of borrowing resources from established businesses to innovate, increase funding to the innovation units and let them buy resources from outside companies. Let them pay companies to verify the Distinctive Value Proposition (DVP); let them pay outside companies to design the new product; let them pay outside companies to manufacture the new product; and let them pay outside companies to sell it.  Sure, it will cost money, but with that money you will have resources that put their all into the design, manufacture and sale of the innovative new offering. All-in-all, it's well worth the money.
Don't fall into the trap of sharing resources, especially if the sharing is between established businesses and the innovative teams that are charged with displacing them. And don't fall into the efficiency trap. Established businesses need efficiency, but innovative teams need effectiveness.
It's not impossible to innovate within a successful company, but it is difficult. To make it easier, error on the side of doing innovation outside the four walls of success. It may be more expensive, but it will be far more effective.  And it will be faster. Resources borrowed from other teams work the way they worked last time. And if they are borrowed from a successful team, they will work like a successful team. They will work with loss aversion. Instead of working to bring something to life they will work to prevent loss of what worked last time. And when doing work that's new, that's the wrong way to work.
The best way I know to do innovation within a successful company is to do it outside the successful company.
Image credit – David Doe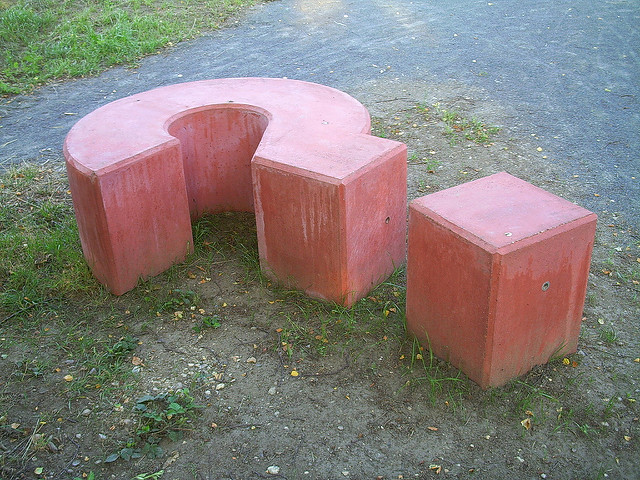 Here are some important questions for innovation.
What's the Distinctive Value Proposition? The new offering must help the customer make progress. How does the customer benefit? How is their life made easier? How does this compare to the existing offerings? Summarize the difference on one page. If the innovation doesn't help the customer make progress, it's not an innovation.
Is it too big or too small?  If the project could deliver sales growth that would dwarf the existing sales numbers for the company, the endeavor is likely too big.  The company mindset and philosophy would have to be destroyed.  Are you sure you're up to the challenge? If the project could deliver only a small increase in sales, it's likely not worth the time and expense.  Think return on investment.  There's no right answer, but it's important to ask the question and set the limits for too big and too small.  If it could grow to 10% of today's sales numbers, that's probably about right.
Why us? There's got to be a reason why you're the right company to do this new work.  List the company's strengths that make the work possible. If you have several strengths that give you an advantage, that's great.  And if one of your weaknesses gives you an advantage, that works too. Step on the accelerator.  If none of your strengths give you an advantage, choose another project.
How do we increase our learning rate? First thing, define Learning Objectives (LOs). And once defined, create a plan to achieve them quickly.  Here's a hint. Define what it takes to satisfy the LOs. Here's another hind. Don't build a physical prototype. Instead, create a website that describes the potential offering and its value proposition and ask people if they want to buy it. Collect the data and refine the offering based on your learning. Or, create a one-page sales tool and show it to ten potential customers. Define your learning and use the learning to decide what to do next.
Then what? If the first phase of the work is successful, there must be a then what. There must be an approved plan (funding, resources) for the second phase before the first phase starts.  And the same thing goes for the follow-on phases. The easiest way to improve innovation effectiveness is avoid starting phase one of projects when their phase two is unfunded. The fastest innovation project is the wrong one that never starts.
How do we start? Define how much money you want to spend. Formalize your business objectives.  Choose projects that could meet your business objectives. Free up your best people. Learn as quickly as you can.
Image credit — Alexander Henning Drachmann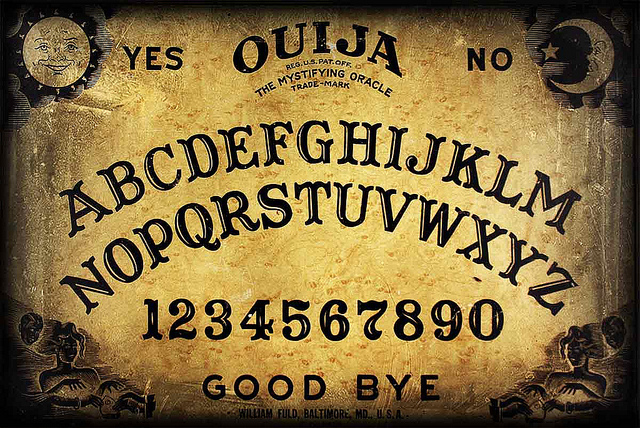 The primary responsibility of management is to allocate resources in the way that best achieves business objectives.  If there are three or four options to allocate resources, which is the best choice? What is the time horizon for the decision? Is it best to hire more people? Why not partner with a contract resource company? Build a new facility or add to the existing one? No right answers, but all require a decision.
Rule 1 – Make decisions overtly. All too often, decisions happen slowly over time without knowledge the decision was actually made. A year down the road, we wake up from our daze and realize we're all aligned with a decision we didn't know we made. That's bad for business. Make them overtly and document them.
Rule 2 – Define the decision criteria before it's time to decide. We all have biases and left to our own, we'll make the decision that fits with our biases.  For example, if we think the project is a good idea, we'll interpret the project's achievements through our biased lenses and fund the next phase. To battle this, define the decision criteria months before the funding decision will be made. Think if-then. If the project demonstrates A, then we'll allocate $50,000 for the next phase; if the project demonstrates A, B and C, then we'll allocate $100,000; if the project fails to demonstrate A, B or C, then we'll scrap the project and start a new one.  If the decision criteria aren't predefined, you'll define them on-the-spot to justify the decision you already wanted to make.
Rule 3 – Define who will decide before it's time to decide. Will the decision be made by anonymous vote or by a show of hands? Is a simple majority sufficient, or does it require a two-thirds majority? Does it require a consensus? If so, does it have to be unanimous or can there be some disagreement? If there can be disagreement, how many people can disagree? Does the loudest voice decide? Or does the most senior person declare their position and everyone else falls in line like sheep?
Think back to the last time your company made a big decision. Were the decision criteria defined beforehand? Can you go back to the meeting minutes and find how the project performed against the decision criteria? Were the if-then rules defined upfront? If so, did you follow them? And now that you remember how it went last time, do you think you would have made a better decision if the decision criteria and if-thens were in place before the decision? Now, decide how it will go next time.
And for that last big decision, is there a record of how the decision was made? If there was a vote, who voted up and who voted down? If a consensus was reached, who overtly said they agreed to the decision and who dissented? Or did the most senior person declare a consensus when in fact it was a consensus of one? If you can find a record of the decision, what does the record show?  And if you can't find the record, how do you feel about that? Now that you reflected on last time, decide how it will go next time.
It's scary to think about how we make decisions.  But it's scarier to decide we will make them the same way going forward.  It's time to decide we will put more rigor into our decision making.
Image credit – Michael J & Lesley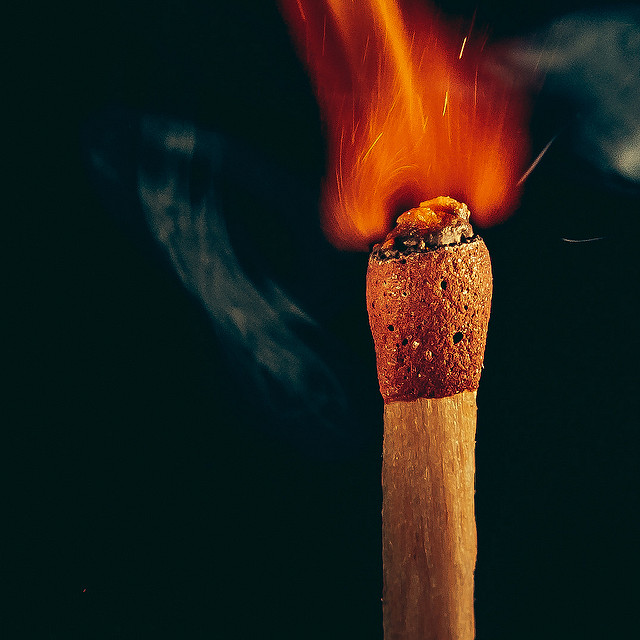 We think we have more control than we really have.  We imagine an idealized future state and try desperately to push the organization in the direction of our imagination.  Add emotional energy, define a rational approach, provide the supporting rationale and everyone will see the light. Pure hubris.
What if we took a different approach? What if we believed people want to do the right thing but there's something in the way?  What if like a log jam in a fast-moving river, we remove the one log blocking them all? What if like a river there's a fast-moving current of company culture that wants to push through the emotional log jam that is the status quo?  What if it's not a log at all but, rather, a Peter Principled executive that's threatened by the very thing that will save the company?
The Peter Principled executive is a tough nut to crack. Deeply entrenched in the powerful goings on of the mundane and enabled by the protective badge of seniority, these sticks-in-the-mud need to be helped out of the way without threatening their no-longer-deserved status. Tricky business.
Rule 1: If you get into an argument with a Peter Principled executive, you'll lose.
Rule 2: Don't argue with Peter Principled executive.
If we want to make it easy for the right work to happen, we've got to learn how to make it easy for the Peter Principled executive to get out of the way.  First, ask yourself why the executive is in the way. Why are they blocking progress? What's keeping them from doing the right thing? Usually it comes down to the fear of change or the fear of losing control.  Now it's time to think of a work product that will help make the case there's a a better way. Think of a small experiment to demonstrate a new way is possible and then run the experiment. Don't ask, just run it. But the experiment isn't the work product. The work product is a short report that makes it clear the new paradigm has been demonstrated, at least at small scale.  The report must be clear and dense and provide objective evidence the right work happened by the right people in the right way.  It must be written in a way that preempts argument – this is what happened, this is who did it, this is what it looks like and this is the benefit.
It's critical to choose the right people to run the experiment and create the work product. The work must be done by someone in the chain of command of the in-the-way executive.  Once the work product is created, it must be shared with an executive of equal status who is by definition outside the chain of command.  From there, that executive must send a gracious email back into the chain of command that praises the work, praises the people who did it and praises the leader within the chain of command who had the foresight to sponsor such wonderful work.
As this public positivity filters through the organization, more people will add their praise of the work and the leaders that sponsored it.  And by the time it makes it up the food chain to the executive of interest, the spider web of positivity is anchored across the organization and can't be unwound by argument. And there you have it. You created the causes and conditions for the log jam to unjam itself.  It's now easy for the executive to get out of the way because they and their organization have already been praised for demonstrating the new paradigm.  You've built a bridge across the emotional divide and made it easy for the executive and the status quo to cross it.
Asking for the right work product is a powerful skill. Most error on the side of complication and complexity, but the right work product is just the opposite – simple and tight. Think sledgehammer to the forehead in the form of and Excel chart where the approach is beyond reproach; where the chart can be interpreted just one way; where the axes are labeled; and it's clear the status quo is long dead.
Business model is dead and we've got to stop trying to keep it alive. It's time to break the log jam. Don't be afraid. Create the right work product that is the dynamite that blows up the status quo and the executives clinging to it.
Image credit – Emilio Küffer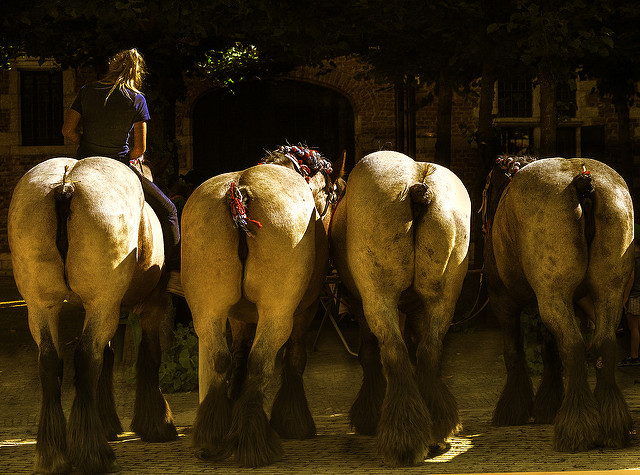 There are four ways to run projects.
One – 80% Right, 100% Done, 100% On Time, 100% On Budget
Fix time
Fix resources
Flex scope and certainty
Set a tight timeline and use the people and budget you have.  You'll be done on time, but you must accept a reduced scope (fewer bells and whistles) and less certainty of how the product/service will perform and how well it will be received by customers. This is a good way to go when you're starting a new adventure or investigating new space.
Two – 100% Right, 100% Done, 0% On Time, 0% On Budget
Fix resources
Fix scope and certainty
Flex time
Use the team and budget you have and tightly define the scope (features) and define the level of certainty required by your customers. Because you can't predict when the project will be done, you'll be late and over budget, but your offering will be right and customers will like it. Use this method when your brand is known for predictability and stability. But, be weary of business implications of being late to market.
Three – 100% Right, 100% Done, 100% On Time, 0% On Budget
Fix scope and certainty
Fix time
Flex resources
Tightly define the scope and level of certainty. Your customers will get what they expect and they'll get it on time.  However, this method will be costly. If you hire contract resources, they will be expensive.  And if you use internal resources, you'll have to stop one project to start this one. The benefits from the stopped project won't be realized and will increase the effective cost to the company.  And even though time is fixed, this approach will likely be late.  It will take longer than planned to move resources from one project to another and will take longer than planned to hire contract resources and get them up and running.  Use this method if you've already established good working relationships with contract resources.  Avoid this method if you have difficulty stopping existing projects to start new ones.
Four – Not Right, Not Done, Not On Time, Not On Budget
Fix time
Fix resources
Fix scope and certainty
Though almost every project plan is based on this approach, it never works.  Sure, it would be great if it worked, but it doesn't, it hasn't and it won't. There's not enough time to do the right work, not enough money to get the work done on time and no one is willing to flex on scope and certainty.  Everyone knows it won't work and we do it anyway.  The result – a stressful project that doesn't deliver and no one feels good about.
Image credit – Cees Schipper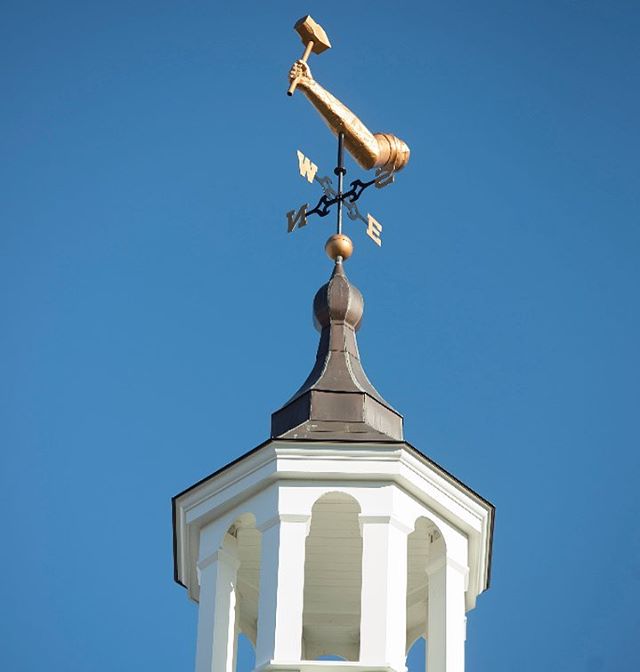 What do they want? Some get there with jobs-to-be-done, some use Customer Needs, some swear by ethnographic research and some like to understand why before what.  But in all cases, it starts with the customer.  Whichever mechanism you use, the objective is clear – to understand what they need.  Because if you don't know what they need, you can't give it to them.  And once you get your arms around their needs, you're ready to translate them into a set of functional requirements, that once satisfied, will give them what they need.
What does it do? A complete set of functional requirements is difficult to create, so don't start with a complete set.  Use your new knowledge of the top customer needs to define and prioritize the top functional requirements (think three to five).  Once tightly formalized, these requirements will guide the more detailed work that follows.  The functional requirements are mapped to elements of the design, or design parameters, that will bring the functions to life.  But before that, ask yourself if a check-in with some potential customers is warranted.  Sometimes it is, but at these early stages it's may best to wait until you have something tangible to show customers.
What does it look like? The design parameters define the physical elements of the design that ultimately create the functionality customers will buy. The design parameters define shape of the physical elements, the materials they're made from and the interaction of the elements.  It's best if one design parameter controls a single functional requirement so the functions can be dialed in independently.  At this early concept phase, a sketch or CAD model can be created and reviewed with customers.  You may learn you're off track or you may learn you're way off track, but either way, you'll learn how the design must change. But before that, take a little time to think through how the product will be made.
How to make it? The process variables define the elements of the manufacturing process that make the right shapes from the right materials. Sometimes the elements of the design (design parameters) fit the process variables nicely, but often the design parameters must be changed or rearranged to fit the process.  Postpone this mapping at your peril!  Once you show a customer a concept, some design parameters are locked down, and if those elements of the design don't fit the process you'll be stuck with high costs and defects.
How to sell it? The goodness of the design must be translated into language that fits the customer.  Create a single page sales tool that describes their needs and how the new functionality satisfies them.  And include a digital image of the concept and add it to the one-pager.  Show document to the customer and listen.  The customer feedback will cause you to revisit the functional requirements, design parameters and process variables.  And that's how it's supposed to go.
Though I described this process in a linear way, nothing about this process is linear. Because the domains are mapped to each other, changes in one domain ripple through the others.  Change a material and the functionality changes and so do the process variables needed to make it.  Change the process and the shapes must change which, in turn, change the functionality.
But changes to the customer needs are far more problematic, if not cataclysmic.  Change the customer needs and all the domains change. All of them.  And the domains don't change subtly, they get flipped on their heads.  A change to a customer need is an avalanche that sweeps away much of the work that's been done to date.  With a change to a customer need, new functions must be created from scratch and old design elements must culled.  And no one knows what the what the new shapes will be or how to make them.
You can't hold off on the design work until all the customer needs are locked down. You've got to start with partial knowledge.  But, you can check in regularly with customers and show them early designs.  And you can even show them concept sketches.
And when they give you feedback, listen.
Image credit – Worcester Wired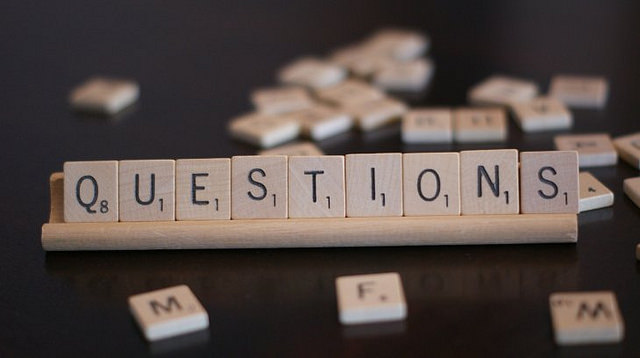 In business you've got to do two things: choose what to do and choose how to do it well.  I'm not sure which is more important, but I am sure there's far more written on how to do things well and far less clarity around how to choose what to do.
Choosing what to do starts with understanding what's being done now.  For technology, it's defining the state-of-the-art. For the business model, it's how the leading companies are interacting with customers and which functions they are outsourcing and which they are doing themselves. In neither case does what's being done define your new recipe, but in both cases it's the first step to figuring how you'll differentiate over the competition.
Every observation of the state-of-the-art technologies and latest business models is a snapshot in time.  You know what's happening at this instant, but you don't know what things will look like in two years when you launch. And that's not good enough. You've got to know the improvement trajectories; you've got to know if those trajectories will still hold true when you'll launch your offering; and, if they're out of gas, you've got to figure out the new improvement areas and their trajectories.
You've got to differentiate over the in-the-future competition who will constantly improve over the next two years, not the in-the-moment competition you see today.
For technology, first look at the competitions' websites. For their latest product or service, figure out what they're proud of, what they brag about, what line of goodness it offers.  For example, is it faster, smaller, lighter, more powerful or less expensive?  Then, look at the product it replaced and what it offered. If the old was faster than the one it replaced and the newest one was faster still, their next one will try to be faster.  But if the old one was faster than the one it replaced and the newest one is proud of something else, it's likely they'll try to give the next one more of that same something else.
And the rate of improvement gives another clue.  If the improvement is decreasing over time (old product to new product), it's likely the next one will improve on a new line of goodness.  If it's still accelerating, expect more of what they did last time.  Use the slope to estimate the magnitude of improvement two years from now.  That's what you've got to be better than.
And with business models, make a Wardley Map.  On the map, place the elements of the business ecosystem (I hate that word) and connect the elements that interact with each other.  And now the tricky part.  Move to the right the mature elements (e.g., electrical power grid), move to the middle the immature elements (things that are clunky and you have to make yourself) and move to the middle the parts you can buy from others (products).  There's a north-south element to the maps, but that's for another time.
The business model is defined by which elements the company does itself, which it buys from others and which new ones they create in their labs.  So, make a model for each competitor.  You'll be able to see their business model visually.
Now, which elements to work on?  Buy the ones you can buy (middle), improve the immature ones on the far left so they move toward the central region (product) and disrupt the lazy utilities (on the right) with some crazy technology development and create something new on the far left (get something running in the lab).
Choosing what to work on starts with Observation of what's going on now. Then, that information is Oriented with analysis, synthesis and diverse perspective.  Then, using the best frameworks you know, a Decision is made.  And then, and only then, can you Act.
And there you have it.  The makings of an OODA loop-based methodology for choosing what to do.
For a great podcast on John Boyd, the father of the OODA loop, try this one.
And for the deepest dive on OODA (don't start with this one) see Osinga – Science, Strategy and War.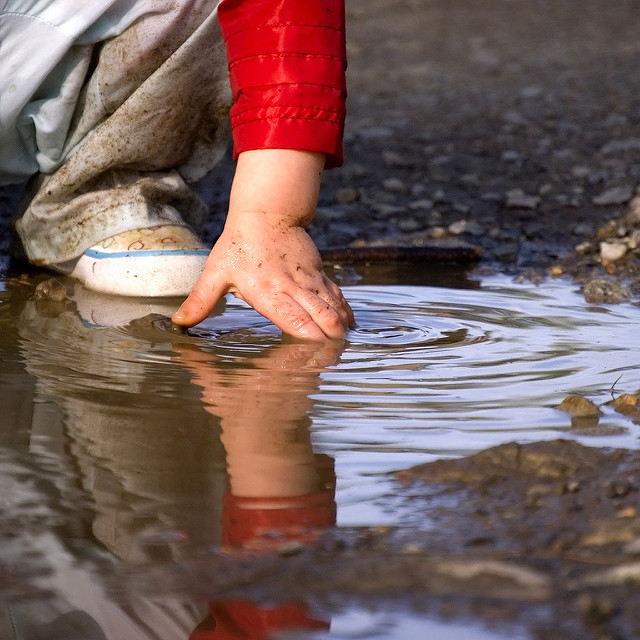 One of the best ways to learn is to make a prototype.  Prototypes come in many shapes and sizes, but their defining element is the learning objective behind them.  When you start with what you want to learn, the prototype is sure to satisfy the learning objective.  But start with the prototype, and no one is quite sure what you'll learn.  When prototypes come before the learning objective, prototypes are inefficient and ineffective.
Before staffing a big project, prototypes can be used to determine viability of the project.  And done right, viability prototypes can make for fast and effective learning.  Usually, the team wants to build a functional prototype of the product or service, but that's money poorly spent until the business model is validated.   There's nothing worse than building expensive prototypes and staffing a project, only to find the business model doesn't hold water and no one buys the new thing you're selling.
There's no reason a business model can't be validated with a simple prototype. (Think one-page sales tool.)  And there's no reason it can't be done at the earliest stages.  More strongly, the detailed work should be held hostage until the business model is validated.  And when it's validated, you can feel good about the pot of gold at the end of the rainbow.  And if it's invalidated, you saved a lot of time, money and embarrassment.
The best way to validate the business model is with a set of one-page documents that define for the customer what you will sell them, how you'll sell it, how you'll service it, how you'll train them and how you'll support them over the life of your offering.  And, don't forget to tell them how much it will cost.
The worst way to validate the business model is buy building it.  All the learning happens after all the money has been spent.
For the business model prototypes there's only one learning objective: We want to learn if the customer will buy what we're selling.  For the business model to be viable, the offering has to hang together within the context of installation, service, support, training and price.  And the one-page prototype must call out specifics of each element.  If you use generalities like "we provide good service" or "our training plans are the best", you're faking it.
Don't let yourself off the hook.  Use prototypes to determine the viability of the business model before spending the money to build it.
Image credit – Heather Katsoulis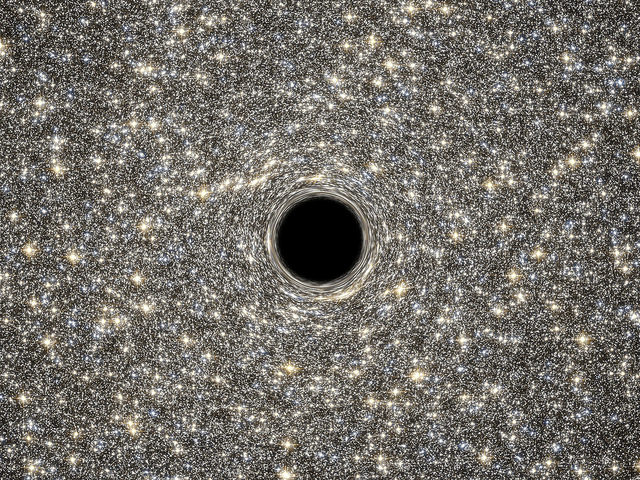 If your day doesn't start with a list of things you want to get done, there's little chance you'll get them done. What if you spent thirty minutes to define what you want to get done and then spent an hour getting them done?  In ninety minutes you'll have made a significant dent in the most important work.  It doesn't sound like a big deal, but it's bigger than big.  Question: How often do you work for thirty minutes without interruptions?
Switching costs are high, but we don't behave that way.  Once interrupted, what if it takes ten minutes to get back into the groove? What if it takes fifteen minutes?  What if you're interrupted every ten or fifteen minutes?  Question: What if the minimum time block to do real thinking is thirty minutes of uninterrupted time?
Let's assume for your average week you carve out sixty minutes of uninterrupted time each day to do meaningful work, then, doing as I propose – spending thirty minutes planning and sixty minutes doing something meaningful every day – increases your meaningful work by 50%.  Not bad.  And if for your average week you currently spend thirty contiguous minutes each day doing deep work, the proposed ninety-minute arrangement increases your meaningful work by 200%.  A big deal.  And if you only work for thirty minutes three out of five days, the ninety-minute arrangement increases your meaningful work by 400%.  A night and day difference.
Question: How many times per week do you spend thirty minutes of uninterrupted time working on the most important things?  How would things change if every day you spent thirty minutes planning and sixty minutes doing the most important work?
Great idea, but with today's business culture there's no way to block out ninety minutes of uninterrupted time.  To that I say, before going to work, plan for thirty minutes at home.  And set up a sixty-minute recurring meeting with yourself first thing every morning and do sixty minutes of uninterrupted work.  And if you can't sit at your desk without being interrupted, hold the sixty-minute meeting with yourself in a location where you won't be interrupted.  And, to make up for the thirty minutes you spent planning at home, leave thirty minutes early.
No way.  Can't do it.  Won't work.
It will work.  Here's why.  Over the course of a month, you'll have done at least 50% more real work than everyone else.  And, because your work time is uninterrupted, the quality of your work will be better than everyone else's.  And, because you spend time planning, you will work on the most important things.  More deep work, higher quality working conditions, and regular planning.  You can't beat that, even if it's only sixty to ninety minutes per day.
The math works because in our normal working mode, we don't spend much time working in an uninterrupted way.  Do the math for yourself.  Sum the number of minutes per week you spend working at least thirty minutes at time.  And whatever the number, figure out a way to increase the minutes by 50%.  A small number of minutes will make a big difference.
Image credit – NASA Goddard Space Flight Center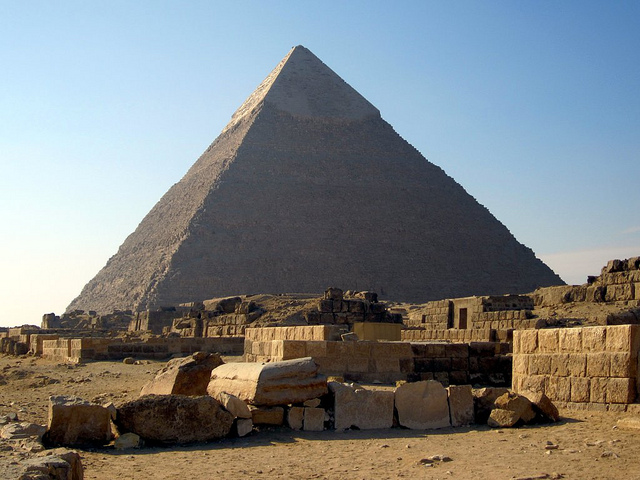 Sometimes we get caught up in the details when we should be working on the foundation.  Here's a rule: If the underlying foundation is not secure, don't bother working on anything else.
If you're working on a couple new technologies, but the overall business model won't be profitable, don't work on the new technologies.  Instead, figure out a business model that is profitable, then do what it takes (technology, simplification, process improvement) to make it happen.  But, often, that's not what we do.
Often, we put the cart before the horse.  We create projects to make prototypes that demonstrate a new technology, but the whole business premise is built on quicksand.  There's a reason why foundations are made from concrete and not quicksand.  It's because you can build on top of a base made of concrete.  It supports the load.  It doesn't crack, nor does it fall apart.  Think Pyramid of Giza.
Because foundations are big and expensive they can be difficult and expensive to test.  For example, if an innovation is based on a new foundation, say, a new business model, building a physical prototype of the new business model is too expensive and the testing will not happen.  And what usually happens is the foundation goes untested, the higher level technology work is done, the commercialization work is completed and the business model fails because it wasn't solid.
But you don't have to build a full-scale prototype of the Pyramid of Giza to test if a pyramid will stand the test of time.  You can build a small one and test it, or you can run an analysis of some sort to understand if the pyramid will support the weight.  But what if you want to test a new business model, a business model that has never been done before, using new products and services that have never seen the light of day?  What do you do? In this case, it doesn't make sense to make even a scale model.  But it does make sense to create a one page sales tool that describes the whole thing and it does make sense to show it to potential customers and ask them what they think about it.
The open question with all new things is – will customers like it enough to buy it.  And, it's no different with the business model.  Instead of creating a new website, staffing up, creating new technologies and products, create a one-page sales tool that describes the new elements and show it to potential customers.  Distill the value proposition into language people can understand, describe the novelty that fuels the value, capture it on one page, show it to customers, and listen.
And don't build a single, one-page sales tool, build two or three versions.  And then, ask customers what they think.  Odds are, they'll ask you questions you didn't think they'd ask.  Odds are, they'll see it differently than you do. And, odds are, you'll have to incorporate their feedback into an improved version of the business model.  The bad new is you didn't get it right.  The good news is you didn't have to staff up and build the whole business model, create the technologies and launch the products.  And more good news – you can quickly modify the one-page sales tool and go back to the customers and ask them what they think.  And you can do this quickly and inexpensively.
Don't develop the technology until you know the underlying business model will be profitable. Don't staff up until you know if the business model holds water. Don't launch the new products until you verify customers will buy what you want to sell.
Creating a new business model from scratch is an expensive proposition.  Don't build it until you invest in validating it's worth building.
The worst way to validate a business model is by building it.
Image credit – David Stanley