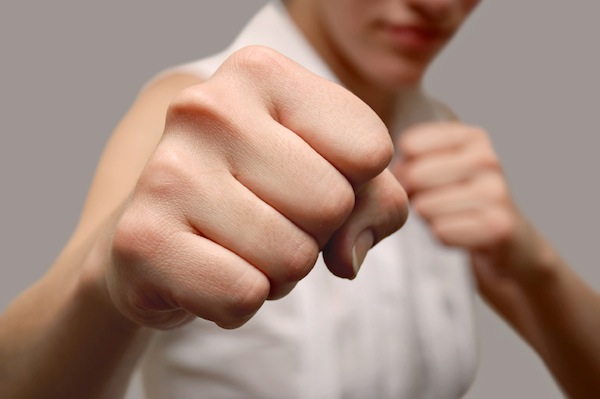 Lean is all about parts. Don't think so? What do your manufacturing processes make? Parts. What do your suppliers ship you? Parts. What do you put into inventory? Parts. What do your shelves hold? Parts. What is your supply chain all about? Parts.
Still not convinced parts are the key? Take a look at the seven wastes and add "of parts" to the end of each one. Here is what it looks like:
Waste of overproduction

(of parts)

Waste of time on hand – waiting

(for parts)

Waste in transportation

(of parts)

Waste of processing itself

(of parts)

Waste of stock on hand – inventory

(of parts)

Waste of movement

(from parts)

Waste of making defective products

(made of parts)
And look at Suzaki's cartoons. (Click them to enlarge.) What do you see? Parts.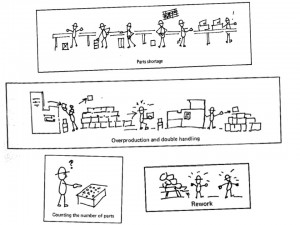 Take out the parts and the waste is not reduced, it's eliminated. Let's do a thought experiment, and pretend your product had 50% fewer parts. (I know it's a stretch.) What would your factory look like? How about your supply chain? There would be: fewer parts to ship, fewer to receive, fewer to move, fewer to store, fewer to handle, fewer opportunities to wait for late parts, and fewer opportunities for incorrect assembly. Loosen your thinking a bit more, and the benefits broaden: fewer suppliers, fewer supplier qualifications, fewer late payments; fewer supplier quality issues, and fewer expensive black belt projects. Most importantly, however, may be the reduction in the transactions, e.g., work in process tracking, labor reporting, material cost tracking, inventory control and valuation, BOMs, routings, backflushing, work orders, and engineering changes.
However, there is a big problem with the thought experiment — there is no one to design out the parts. Since company leadership does not thrust greatness on the design community, design engineers do not have to participate in lean. No one makes them do DFA-driven part count reduction to compliment lean. Don't think you need the design community? Ask your best manufacturing engineer to write an engineering change to eliminates parts, and see where it goes — nowhere. No design engineer, no design change. No design change, no part elimination.
It's staggering to think of the savings that would be achieved with the powerful pairing of DFA and lean. It would go like this: The design community would create a low waste design on which the lean community would squeeze out the remaining waste. It's like the thought experiment; a new product with 50% fewer parts is given to the lean folks, and they lean out the low waste value stream from there. DFA and lean make such a powerful one-two punch because they hit both sides of the waste equation.
DFA eliminates parts, and lean reduces waste from the ones that remain.
There are no technical reasons that prevent DFA and lean from being done together, but there are real failure modes that get in the way. The failure modes are emotional, organizational, and cultural in nature, and are all about people. For example, shared responsibility for design and manufacturing typically resides in the organizational stratosphere – above the VP or Senior VP levels. And because of the failure modes' nature (organizational, cultural), the countermeasures are largely company-specific.
What's in the way of your company making the DFA/lean thought experiment a reality?