Archive for the 'Positivity' Category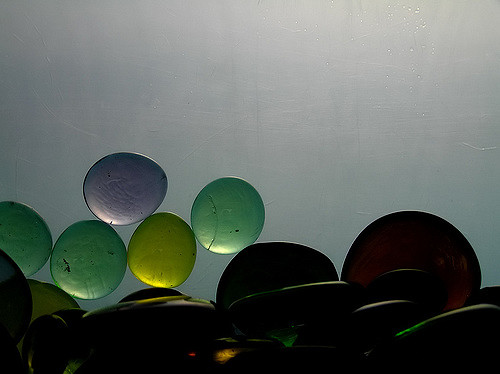 Life's too short to work on things that don't make a difference. Sure, you've got to earn a living, but what kind of living is it if all you're doing is paying for food and a mortgage?  How do others benefit from your work? How does the planet benefit from your work? How is the world a better place because of your work?  How are you a better person because of your work?
When you're done with your career, what will you say about it? Did you work at a job because you were afraid to leave? Did you stay because of loss aversion? Did you block yourself from another opportunity because of a lack of confidence? Or, did you stay in the right place for the right reasons?
If there's no discomfort, there's no growth, even if you're super good at what you do. Discomfort is the tell-tale sign the work is new. And without newness, you're simply turning the crank.  It may be a profitable crank, but it's the same old crank, none the less.  If you've turned the crank for the last five years, what excitement can come from turning it a sixth? Even if you're earning a great living, is it really all that great?
Maybe work isn't supposed to be a source of meaning. I accept that. But, a life without meaning – that's not for me. If not from work, do you have a source of meaning? Do you have something that makes you feel whole? Do you have something that causes you to pole vault out of bed?  Sure, you provide for your family, but it's also important to provide meaning for yourself. It's not sustainable to provide for others at your own expense.
Your work may have meaning, but you may be moving too quickly to notice. Stop, take a breath and close your eyes. Visualize the people you work with. Do they make you smile? Do you remember doing something with them that brought you joy? How about doing something for them – any happiness there? How about when you visualize your customers? Do you they appreciate what you do for them? Do you appreciate their appreciation? Even if there's no meaning in the work, there can be great meaning from doing it with people that matter.
Running away from a job won't solve anything; but wandering toward something meaningful can make a big difference. Before you make a change, look for meaning in what you have. Challenge yourself every day to say something positive to someone you care about and do something nice for someone you don't know all that well.  Try it for a month, or even a week.
Who knows, you may find meaning that was hiding just under the surface. Or, you may even create something special for yourself and the special people around you.
Image credit – Greg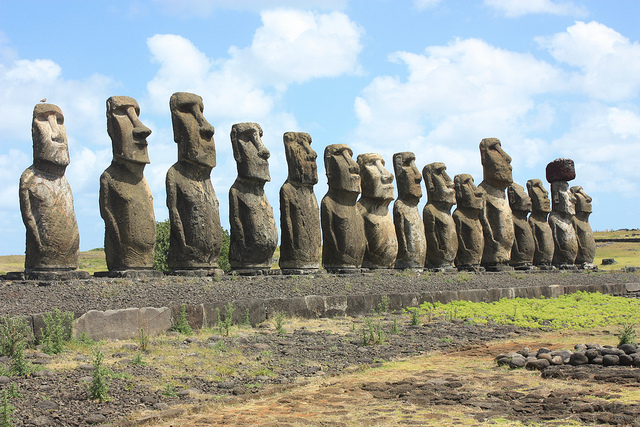 The toughest part of all things is the people part.
Hold on to being right and all you'll be is right.  Transcend rightness and get ready for greatness.
Embrace hubris and there's no room for truth.  Embrace humbleness and everyone can get real.
Judge yourself and others will pile on.  Praise others and they will align with you.
Expect your ideas to carry the day and they won't. Put your ideas out there lightly and ask for feedback and your ideas will grow legs.
Fight to be right and all you'll get is a bent nose and bloody knuckles.  Empathize and the world is a different place.
Expect your plan to control things and the universe will have its way with you.  See your plan as a loosely coupled set of assumptions and the universe will still have its way with you.
Argue and you'll backslide.  Appreciate and you'll ratchet forward.
See the two bad bricks in the wall and life is hard.  See the other nine hundred and ninety-eight and everything gets lighter.
Hold onto success and all you get is rope burns.  Let go of what worked and the next big thing will find you.
Strive and get tired. Thrive and energize others.
The people part may be the toughest part, but it's the part that really matters.
Image credit — Arian Zwegers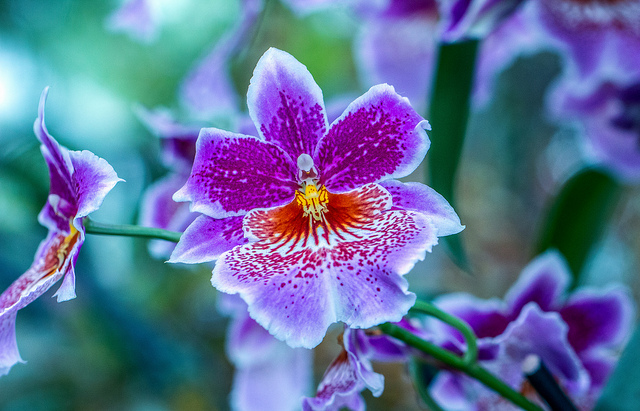 When you see emergent behavior that could grow into a powerful new theme, it's important to acknowledge the behavior quickly and most publicly. If you see it in person, praise the behavior in front of everyone. Explain why you like it, explain why it's important, explain what it could become.  And as soon as you can find a computer, send an email to their bosses and copy the right-doers. Tell their bosses why you like it, tell them why it's important, tell them what it could become.
Emergent behavior is like the first shoots of a beautiful orchid that may come to be. To the untrained eye, these little green beauties can look like scraggly weeds pushing out of the dirt. To the tired, overworked leader these new behaviors can like divergence, goofing around and even misbehavior.  Without studying the leaves, the fledgling orchid can be confused for crabgrass.
Without initiative there is no new behavior and without new behavior there can be no orchids. When good people solve a problem in a creative way and it goes unacknowledged, the stem of the emergent behavior is clipped. But when the creativity is watered and fertilized the seedling has a chance to grow into something more. The leaders' time and attention provide the nutrients, the leaders' praise provides the hydration and their proactive advocacy for more of the wonderful behavior provides the sunlight to fuel the photosynthesis.
When the company demands bushels of grain, it's a challenge to keep an eye out for the early signs of what could be orchids in the making. But that's what a leader must do.  More often than not, this emergent behavior, this magical behavior, goes unacknowledged if not unnoticed.  As leaders, this behavior is unskillful.  As leaders, we've got to slow down and pay more attention.
When you see the magic in emergent behavior, when you see the revolution it could grow into, and when you look someone in the eye and say – "I've got to tell you, what you did was crazy good.  What you did could turn things upside down. What you did was inspiring. Thank you." – you get people's attention. Not only to do you get the attention of the person you're talking to, you get the attention of everyone within a ten-foot radius.  And thirty minutes later, almost everyone knows about the emergent behavior and the warm sunshine it attracted.
And, magically, without a corporate initiative or top-down deployment, over the next weeks there will be patches of orchids sprouting under desks, behind filing cabinets, on the manufacturing floor, in the engineering labs and in the common areas.
As leaders we must make it easier for new behavior to happen.  We must figure a way to slow down and pay attention so we can recognize the seeds of could-be greatness. And to be able to invest the emotional energy needed to protect the seedlings, we must be well-rested.  And like we know to provide the right soil, the right fertilizer, the right watering schedule and the right sunlight, we must remember that special behavior we want to grow is a result of causes and conditions we create.
Image credit – Rosemarie Crisasfi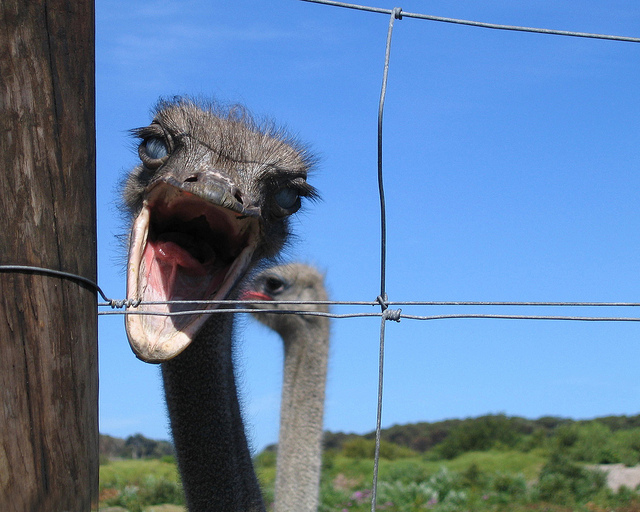 It's easy to complain about how things are going, especially when they're not going well. But even with the best intentions, complaining doesn't move the organization in a new direction.  Sometimes people complain to attract attention to an important issue. Sometimes it's out of frustration, sometimes out of sadness and sometimes out of fear, but it's never the best mechanism.
If the intention is to convey importance, why not convey the importance by explaining why it's important? Why not strip the issue of its charge and use an approach and language that help people understand why it's important? It's a simple shift from complaining to explaining, but it can make all the difference. Where complaining distracts, explaining brings people together. And if it's truly important, why not take the time to have a give-and-take conversation and listen to what others have to say? Instead of listening to respond, why not listen to understand?
If you're not willing to understand someone else's position it's not a conversation.
And if you're on the receiving end of a complaint, how can you learn to see it as a sign of importance and not as an attack? As the receiver, why not strip it of its charge and ask questions of clarification? Why not deescalate and move things from complaint to conversation? Understanding is not agreeing, but it still a step forward for everyone.
When two sides are divided, complaining doesn't help, even if it's well-intentioned. When two sides are divided and there's strong emotion, the first step is to take responsibility to deescalate. And once emotions are calmed, the next step is to take responsibility to understand the other side.  At this stage, there is no requirement to agree, but there can be no hint of disagreement as it will elevate emotions and set progress back to zero.  It's a slow process, but when the issues are highly charged, it's the fastest way to come together.
If you're dissatisfied with the negativity, demonstrate positivity. If you want to come together, take the first step toward the middle. If you want to generate the trust needed to move things forward, take action that builds trust.
If you want things to be different, look inside.
Image credit – Ireen2005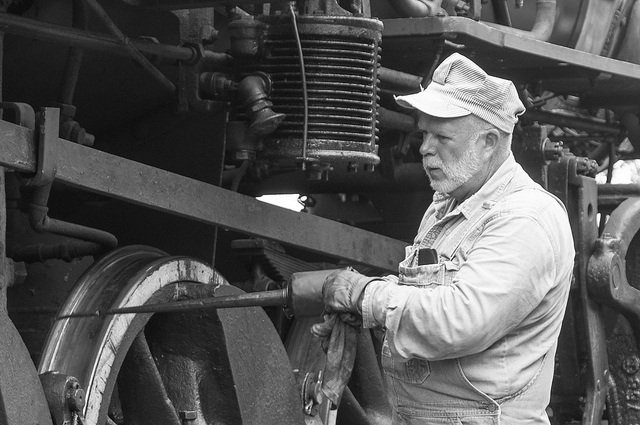 A car has a warning light to protect its engine from running too hot, and when the light goes off you pull over immediately and shut it down.  You made a big investment in your car, and you want to make sure it runs for a long time.  You respect the warning light.  And if you're late to work because your car overheated, everyone understands.   They respect the warning light.
What if you had a warning light? What if you wore a sensor that's wirelessly connected to your phone that measures your pulse or blood pressure, and your phone flashed a warning light when things get too hot? Would it be okay if you shut down immediately and went home? You and your company have made a big investment in you, and you want to make sure you run for a long time.  Would you respect the warning light? Would your company respect the warning light? What's the difference between a warning light for a car and a warning light for a person?
All machines come with an owner's manual. In the manual, the manufacturer provides clear instructions on how to take care of the product so it runs well.  Tighten the bolts every month, clean and inspect the electrical connections every six months and replace the wear parts per the table in the manual.  And if you follow the instructions, the machine will run as advertised.  But if you don't follow the maintenance schedule, expect degraded performance or an unplanned breakdown. Everyone knows the machine must be shut down regularly for maintenance, or it won't run right.
What if you had an owner's manual, with clear instructions on how to take care of yourself? How about eight hours of sleep, balanced diet, exercise and some fun? And if you follow the instructions, you will run as advertised. But if you don't, shouldn't you and your company expect degraded performance and unplanned downtime? Doesn't everyone know you must shut down regularly for maintenance or you won't run right?
I want to perform as advertised, so I'm shutting down for vacation.
Image credit – Mark Fischer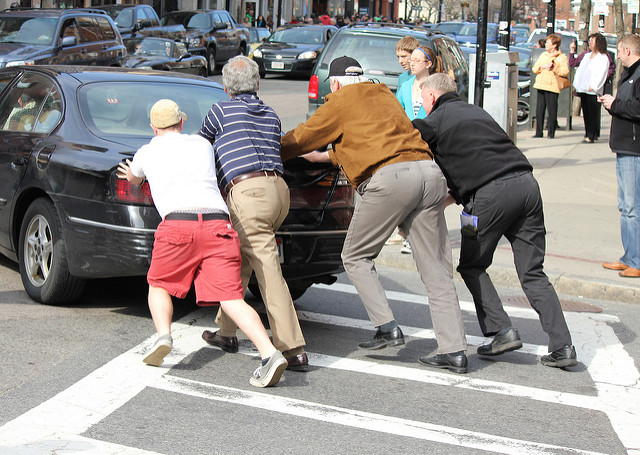 People ask why.
People buy products from people.
The right people turn activity into progress.
People want to make a difference, and they do.
People have biases which bring a richer understanding.
People use judgement – that's why robots don't run projects.
People recognize when the rules don't apply and act accordingly.
Business models are an interconnected collection of people processes.
The simplest processes require judgement, that's why they're run by people.
People don't like good service, they like effective interaction with other people.
People are the power behind the tools.  (I never met a hammer that swung itself.)
Progress is powered by people.
Image credit – las – intially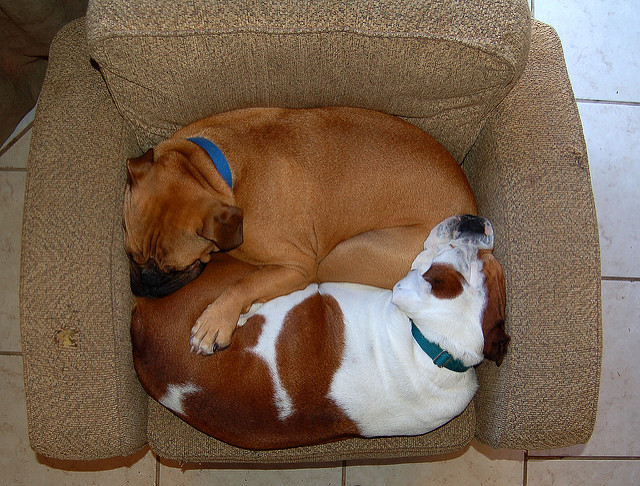 Do good work and people will notice.  Do work to get noticed and people will notice that too.
Try to do good work and you'll get ahead. Try to get ahead and you won't.
If the work feels good while you're doing it, it's good work.  If it doesn't, it's not.
If you watch the clock while you work, that says nothing about the clock.
When you surf the web at work, you're not working.  When you learn from blog posts, podcasts and TED talks, you are.
Using social media at work is good for business, except when it isn't.
When you feel you don't have the authority, you don't.  If you think you need authority, you shouldn't.
When people seek your guidance you have something far more powerful than authority, you have trust.
Don't pine for authority, earn the right to influence.
Influence is to authority as trust is to control.
Personal relationships are more powerful than org charts.  Work the relationships, not the org chart.
There's no reason to change right up until there's a good reason.  It may be too late, but at least you'll have a reason.
Holding on to what you have comes at the expense of creating the future.
As a leader don't take credit, take responsibility.
And when in doubt, try something.
Image credit — Peter Clark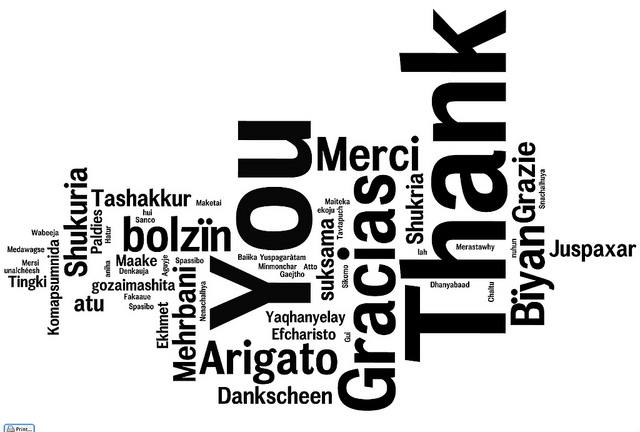 Sometimes people are unskillful with their words, and what they say can have multiple interpretations.  But, though you don't have control over their words, you do have control over how you interpret them. And the translation you choose makes all the difference.  On the flipside, when you choose your words skillfully they can have a singular translation. And that, too, makes all the difference.  Here are some examples.
It can't be done.  Translations: 1) We've never tried it and we don't know how to go about it.  2) We know you'll not give us the time and the resources to do it right, and because of that, we won't be successful.  3) Wow. I like that idea, but we're already so overloaded. Do you think we can talk about that in the second half of the year?
We tried that but it didn't work.  Translations: 1) Twelve years ago someone who made a prototype and it worked pretty well.  But, she wasn't given the time to take it to the next level and the project was abandoned.  2) We all think that's a wonderful idea and really want to work on it, but we're too busy to think about that. If I come clean, will you give me the resources to do it right?
Why didn't you follow the best practice? Translations: 1) I'm afraid of the uncertainty around this innovation work and I've heard best practices can reduce risk.  2) I don't really know what I'm talking about, but this seems like a safe question to ask without tipping my hand.  3) I want to make a difference at the company, but I've never been part of a project with so much newness. Can you teach me?
That's not how we do it. Translations: 1) I've always done it that way, and thinking about doing it differently scares me.  2) Though the process is clunky, we've been told to follow it.  And I don't want to get in trouble. 3) That sounds like a good idea, but I don't have the time to think through the potential implications to our customers.
What are you working on? Translation: I'm interested in what you're working on because I care about you.
Can I help you? Translation: You've helped me in the past and I see you're in a tough situation.  I care about you.  What can I do to help?
Good job. Translation: I want to positively reinforce your good work in front of everyone because, well, you did good work.
That's a good idea. Translation: I think highly of you, I like that you stuck out your neck, and I hope you do it regularly.
I need help. Translation: I know you are highly capable and I trust you. I'm in a tight spot here.  Can you help me?
Thank you.  Translation: You were helpful and I appreciate it.  Thank you.
How you choose your words and how you choose to assign meaning to others' words make all the difference.  Choose skillfully.
image credit — woodleywonderworks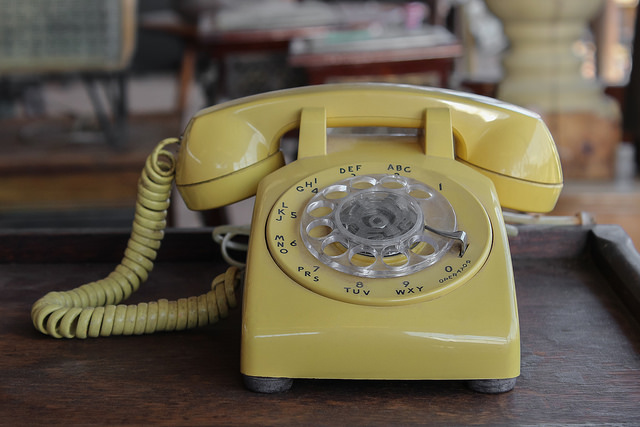 There's a special type of confusion that has blocked many good ideas from seeing the light of day.  The confusion happens early in the life of a new technology when it is up and running in the lab but not yet incorporated in a product.  Since the new technology provides a new flavor of customer goodness, it has the chance to create incremental sales for the company.  But, since there are no products in the market that provide the novel goodness, by definition there can be no sales from these products because they don't yet exist.  And here's the confusion.  Organizations equate "no sales" with "no market".
There's a lot of risk with launching new products with new value propositions to new customers.  You invest resources to create the new technologies and products, create the sales tools, train the sales teams, and roll it out well. And with all this hard work and investment, there's a chance no one will buy it.  Launching a product that improves on an existing product with an existing market is far less risky – customers know what to expect and the company knows they'll buy it.  The status quo when stable if all the players launch similar products, right up until it isn't.  When an upstart enters the market with a product that offers new customer goodness (value proposition) the same-old-same-old market-customer dynamic is changed forever.
A market-busting product is usually launched by an outsider – either a big player moves into a new space or a startup launches its first product.  Both the new-to-market big boy and the startup have a far different risk profile than the market leader, not because their costs to develop and launch a new product are different, but because they have not market share.  For them, they have no market share to protect any new sales are incremental.  But for the established players, most of their resources are allocated to protecting their existing business and any resources diverted toward a new-to-market product is viewed as a loss of protective power and a risk to their market share and profitability.   And on top of that, the incumbent sees sales of the new product as a threat to sales of the existing products.  There's a good chance that their some of their existing customers will prefer the new goodness and buy the new-to-market product instead of the tried-and-true product.  In that way, sales growth of their own new product is seen as an attack no their own market share.
Business leaders are smart.  Theoretically, they know when a new product is proposed, because it hasn't launched yet, there can be no sales.  Yet, practically, because their prime directive to protect market share is so all-encompassing and important, their vision is colored by it and they confound "no sales" with "no market".  To move forward, it's helpful to talk about their growth objectives and time horizon.
With a short time horizon, the best use of resources is to build on what works – to launch a product that builds on the last one.  But when the discussion is moved further out in time, with a longer time horizon it's a high risk decision to hold on tightly to what you have as the market changes around you.  Eventually, all recipes run out of gas like Henry Ford's Model T.  And the best leading indicator of running low on fuel is when the same old recipe cannot deliver on medium-term growth objectives.  Short term growth is still there, but further out they are not.  Market forces are squeezing the juice out of your past success.
Ultimately, out of desperation, the used-to-be market leader will launch a new-to-market product.  But it's not a good idea to do this work only when it's the only option left.  Before they're launched, new products that offer new value to customers will, by definition, have no sales.  Try to hold back the fear-based declaration that there is no market.  Instead, do the forward-looking marketing work to see if there is a market.  Assume there is a market and build some low cost learning prototypes and put them in front of customers.  These prototypes don't yet have to be functional; they just have to communicate the idea behind the new value proposition.
Before there is a market, there is an idea that a market could exist.  And before that could-be market is served, there must be prototype-based verification that the market does in fact exist.  Define the new value proposition, build inexpensive prototypes and put them in front of customers.  Listen to their feedback, modify the prototypes and repeat.
Instead of arguing whether the market exists, spend all your energy proving that it does.
Image credit — lensletter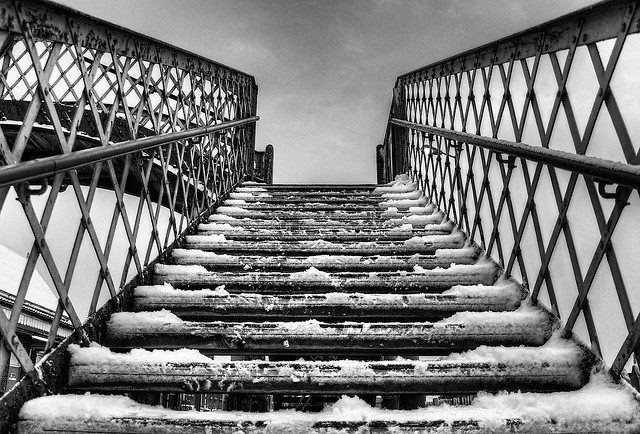 At every meeting you have a chance to move things forward or hold them back.  When a new idea is first introduced it's bare-naked.  In its prenatal state, it's wobbly and can't stand on its own and is vulnerable to attack. But since it's not yet developed, it's impressionable and willing to evolve into what it could be.  With the right help it can go either way – die a swift death or sprout into something magical.
Early in gestation, the most worthy ideas don't look that way.  They're ugly, ill-formed, angry or threatening.  Or, they're playful, silly or absurd.  Depending on your outlook, they can be a member of either camp. And as your outlook changes, they can jump from one camp to the other.  Or, they can sit with one leg in each.  But none of that is about the idea, it's all about you.  The idea isn't a thing in itself, it's a reflection of you. The idea is nothing until you attach your feelings to it.  Whether it lives or dies depends on you.
Are you looking for reasons to say yes or reasons to say no?
On the surface, everyone in the organization looks like they're fully booked with more smart goals than they can digest and have more deliverables than they swallow, but that's not the case.  Though it looks like there's no room for new ideas, there's plenty of capacity to chew on new ideas if the team decides they want to.  Every team can spare and hour or two a week for the right ideas.  The only real question is do they want to?
If someone shows interest and initiative, it's important to support their idea.  The smallest acceptable investment is a follow-on question that positively reinforces the behavior.  "That's interesting, tell me more." sends the right message.  Next, "How do you think we should test the idea?" makes it clear you are willing to take the next step.  If they can't think of a way to test it, help them come up with a small, resource-lite experiment.  And if they respond with a five year plan and multi-million dollar investment, suggest a small experiment to demonstrate worthiness of the idea.  Sometimes it's a thought experiment, sometimes it's a discussion with a customer and sometimes it's a prototype, but it's always small.  Regardless of the idea, there's always room for a small experiment.
Like a staircase, a series of small experiments build on each other to create big learning.  Each step is manageable – each investment is tolerable and each misstep is survivable – and with each experiment the learning objective is the same: Is the new idea worthy of taking the next step?  It's a step-wise set of decisions to allocate resources on the right work to increase learning.  And after starting in the basement, with step-by-step experimentation and flight-by-flight investment, you find yourself on the fifth floor.
This is about changing behavior and learning.  Behavior doesn't change overnight, it changes day-by-day, step-by-step.  And it's the same for learning – it builds on what was learned yesterday.  And as long at the experiment is small, there can be no missteps.  And it doesn't matter what the first experiment is all about, as long as you take the first step.
Your team will recognize your new behavior because it respectful of their ideas.  And when you respect their ideas, you respect them.  Soon enough you will have a team that stands taller and runs small experiments on their own.  Their experiments will grow bolder and their learning will curve will steepen.  Then, you'll struggle to keep up with them, and you'll have them right where you want them.
image credit — Rob Warde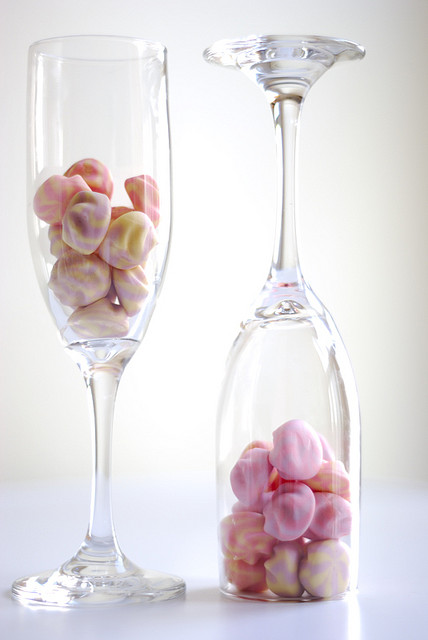 Supply and demand have been joined at the hip since the beginning.  When demand is high, the deck is shuffled so supply seems low.  The fabricated scarcity drives up prices and shareholders are happy.  When demand is low, the competition pushes each other on price.  The abundance creates a commodity, and it's a race to the bottom.
But this is old thinking.
Scarcity isn't a lever to jack up prices or manipulate relationships, it's an opportunity to spend your limited resources on the most important work and to build relationships.  When you tell a potential partner you want work with them and you are willing to spend your finite resources to make it happen, it's a huge compliment.  Voting with your feet makes a powerful statement that you're serious about working with them because you think they're special.  You are telling them that you will say no to others so you can say yes to them.  Both know they're part of something important and the free-flowing positivity results in something otherwise impossible.
Scarcity is limiting only if your mental framework thinks it is.  If you hoard and hold tightly, scarcity breeds win-lose relationships governed by power dynamics.  But if you choose the anti-framework, scarcity creates trust.
Played differently, abundance does not create commodity, it's opportunity to show others you have enough to spare.  In personal relationships, when you share some of your work for free your relationships blossom.  When you give it away you are signaling that you have plenty to spare.  It's clear to everyone you are a geyser of new thinking.  Here – take this.  I'll make more.  These simple words create a foundation of trust which bolsters your personal brand.  And because all business relationships are personal relationships, it does the same thing for your company's brand.
Make it a commodity or give it away – how you see abundance is your choice.  The old way breeds bare-knuckled competition.  The new way creates a brand steeped in trust.
If you have scarcity, be thankful for it.  Allocate your precious resources thoughtfully and with love.  Spend your time with the people and causes that matter.  It will feel good to everyone, including you.  And if you have abundance, be thankful.  Choose to develop closer relationships based on trust. Choose to give it away.
Happy Thanksgiving.
image credit — GloriaGarcia