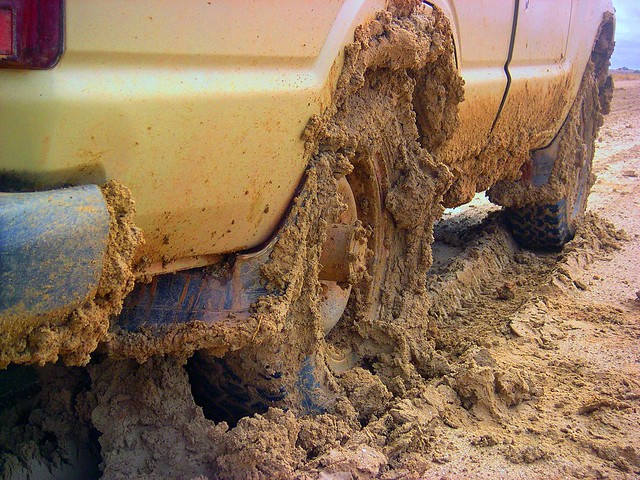 When you're stuck, it's not because you don't have good ideas. And it's not because you're not smart. You're stuck because you're trying to do something difficult. You're stuck because you're trying to triangulate on something that's not quite fully formed. Simply put, you're stuck because it's not yet time to be unstuck.
Anyone can avoid being stuck by doing what was done last time. But that's not unsticking yourself, that's copping out. That's giving in to something lesser. That's dumbing yourself down. That's letting yourself off the hook. That's not believing in yourself. That's not doing what you were born to do. That's not unsticking, that's avoiding the discomfort of being stuck.
Being stuck – not knowing what to do or what to write – is not a bad thing. Sure, it feels bad, but it's a sign you're trekking in uncharted territory. It may be a new design space or it may be new behavioral space, but make no mistake – you're swimming in a new soup. If you've already mastered tomato soup, you won't feel stuck until you jump into a pool filled with chicken noodle. And when you do, don't beat yourself up because your lungs are half-filled with noodles. Instead, simply recognize that chicken soup is different than tomato. Pat yourself on the back for jumping in without a life preserver. And even as you tread water, congratulate yourself for not drowning.
Unsticking takes time and you can't rush it. But that's where most fail – they climb out of the soup too soon. The soup doesn't feel good because it's too hot, too salty, or too noodly, so they get out. They can't stand the discomfort so they get out before the bodies can acclimate and figure out how to swim in a new way. The best way to avoid getting stuck is to stay out of the soup and the next best way is to get out too early. But it's not best to avoid being stuck.
Life's too short to avoid being stuck. Sure, you may prevent some discomfort, but you also prevent growth and learning. Do you want to get to your deathbed and realize you limited your personal growth because you were afraid to feel the discomfort of being stuck? Imagine getting to the end of your life and all you can think of is the see of things you didn't experience because you were unwilling to feel stuck.
Stuck is not bad, it just feels bad. Instead of seeing the discomfort as discomfort, can you learn to see it as the precursor to growth? Can you learn to see the discomfort as an indicator of immanent learning? Can you learn to see it as the tell-tale sign of your quest for knowledge and understanding?
If you're not yet ready to feel stuck, I get that. But to get yourself ready, keep your eye out for people around you who have dared to get stuck. Learn to recognize what it looks like. And when you do find someone who is stuck, tell them they are doing a brave thing. Tell them that it's supposed to feel uncomfortable. Tell them that no one has ever died from the discomfort of being stuck. And tell them that staying with the discomfort is the best way to get unstuck. And thank them for demonstrating the right behavior.
Image credit — NeilsPhotography