Lean has been beneficial for many companies, helping improve competitiveness and profitability. But, lean has not been nearly as effective as it can be because there is a missing ingredient – product design. Where lean can reduce the waste of making and moving parts, product design can eliminate the parts altogether; where lean can reduce setup times for big machines, product design can change the parts so they no longer need the big machines; where lean can reduce inventory, product design can eliminate it by designing out parts; where lean can make the supply chain more efficient, product design can radically shorten it by designing out the long lead time elements.
The power of product design is even more evident when considering the breakdown of product cost. Here is some data from Nick Dewhurst taken from multiple-hundred DFMA analyses showing the typical cost breakdown of products.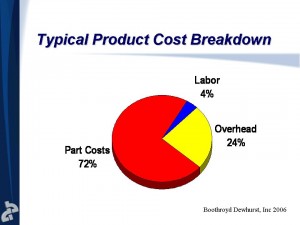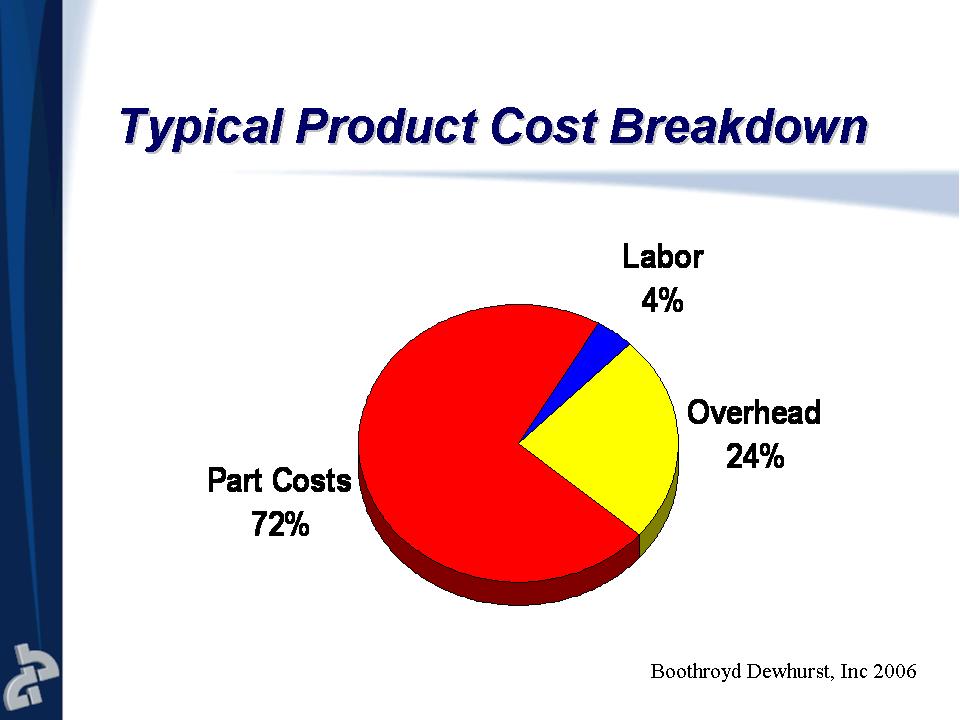 Of the three buckets of cost, material cost is by far the largest 74%, and this is where product development shines. Product design can eliminate 40 to 50% of material cost resulting in radical cost savings. Lean cannot. I will go a bit further and say that material cost reductions are largely off limits to the lean folks since it requires fundamental product changes.
Side note – Probably most surprising about cost breakdown data is labor cost is only 4%. Why we move our manufacturing to "low cost countires" to chase 50% labor reductions to net a whopping 2% cost reduction is beyond me, but that's for a different post.
Let's face it – material cost reduction is where it's at, and lean does not have the toolbox to reduce material cost. There's no mystery here. What is mysterious, however, is that companies looking to survive at all costs are not pulling the biggest lever at their disposal – product design. Here is a bit of old data from Ford showing that Product Design has the biggest lever on cost. We've know this for a long time, but we still don't do it.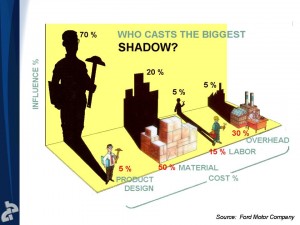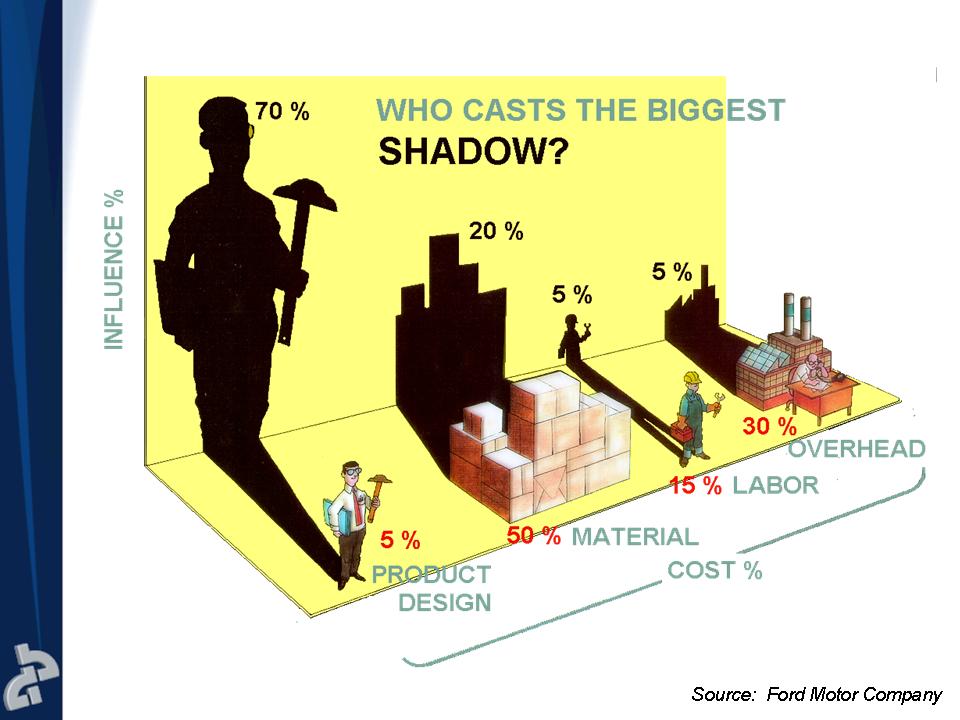 Clearly, the best approach of is to combine the power of product design with lean. It goes like this: the engineers design a low cost, low waste product that is introduced to the production line, and the lean folks improve efficiency and reduce cost from there. We've got the lean part down, but not the product design part.
There are two things in the way of designing low cost, low waste products in a way that helps take lean to the next level. First, product development teams don't know how to do the work. To overcome this, train them in DFMA. Second, and most important, company leaders don't give the product development teams the tools, time, and training to do the work. Company leaders won't take the time to do the work because they think it will delay product launches. Also, they don't want to invest in the tools and training because the cost is too high, even though a little math shows the investment is more than paid back with the first product launch. To fix that, educate them on the methods, the resource needs, and the savings.
Good luck.
3 Responses to "Product Design – the most powerful (and missing) element of lean"