If you do one thing, click this link. (Or the graphic itself.)  Please.  You'll be sent to a page where you can watch an animation of US job losses.  I was debilitated after watching the implosion.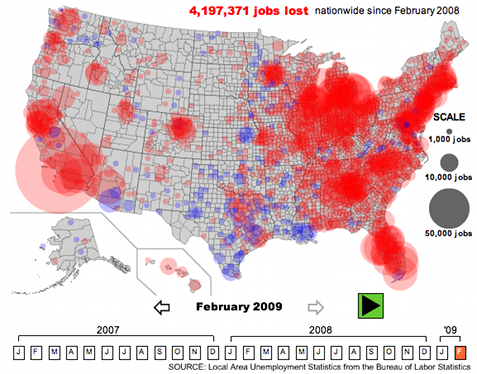 Here's how I reacted to the animation:
Disbelief.  No way.  Not real.  I checked the data.  It's real.
Fear. Look what happened to my country!
Anger. Why isn't everyone talking about this?  Why aren't we doing something about this?  Why are we saying the economy is on the mend?  That's crap, I-want-to-get-reelected type crap. (To be clear, I think great progress has been made.) Truth is it cannot be mended with the current approach.  It cannot.  If possible at all, it will take a borderline-Draconian approach, where cuts are made and taxes are raised to radically fund innovation, technology, and manufacturing. (Think energy, energy, energy.)  Reinvestment in ourselves.
Sadness.  Our lifestyle, as we know it, is over. The American Way has imploded; we just don't have the courage to face it yet.
Sadness. This is not good for my kids. (And that's when I changed my thinking.)
Hope. We can do something about this. It will be exceedingly difficult, but we can do it.  We're smart enough.  We'll have to make hard choices, choices where we get less and pay more – a net reduction in our standard of living. It will take sacrifice, real sacrifice.  Sacrifice at the standard of living level, sacrifice inline with WWII-caliber, go-without sacrifice.  Sacrifice to free up radical amounts of money to invest in our country, in our innovation, in our technology, and in ourselves.  I'm talking about self-investment at levels that make the Apollo Program look like chump change, self-investment that makes the war look like a bargain. The toughest part, however, is how to elect politicians on a platform of get less and pay more, a platform of sacrifice, of tough choices.  I'm not talking about talking about tough choices, but actually making tough choices, choices for the common good. I'm talking about a platform that demands true, unselfish behavior by all.
Action.  I will write to raise awareness. I will post to raise awareness.  I will tweet to raise awareness.  I will speak (if not yell) to raise awareness. I will continue to educate on how to fix it. I will reach out to people who can make a difference.  I will pester them.  I will pester them again.  For my kids and yours, I will not give up.
What will you do?
5 Responses to "The Job Loss Implosion"