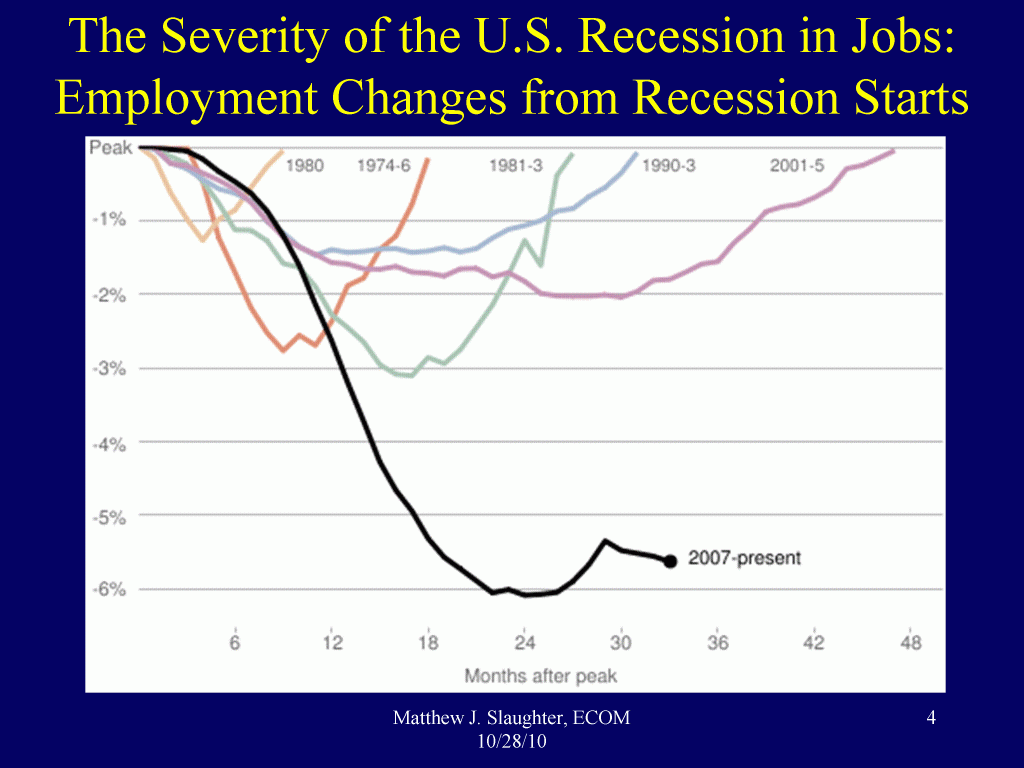 Some sobering facts: (figure and facts from Matt Slaughter)
During the Great Recession, US job loss (peak to trough) was 8.4 million payroll jobs were lost (6.1%) and 8.5 million private-sector jobs (7.3%).
In Sept. 2010 there were 108 million U.S. private-sector payroll jobs, about the same as in March 1999.
It took 48 months to regain the lost 2.0% of jobs in the 2001 recession. At that rate, the U.S. would again reach 12/07 total payroll jobs around January 2020.
The US has a big problem. And I sure as hell hope we are willing do the hard work and make the hard sacrifices to turn things around.
To me it's all about jobs.  To create jobs, real jobs, the US has got to become a more affordable place to invent, design, and manufacture products. Certainly modified tax policies will help and so will trade agreements to make it easier for smaller companies to export products. But those will take too long. We need something now.
To start, we need affordability through productivity. But not the traditional making stuff productivity, we need inventing and designing productivity.
Here's the recipe: Invent technology in-country, design and develop desirable products in-country (products that offer real value, products that do something different, products that folks want to buy), make the products in-country, and sell them outside the country. It's that straightforward.
To me invention/innovation is all about solving technical problems.  Solving them more productively creates much needed invention/innovation productivity. The result: more affordable invention/innovation.
To me design productivity is all about reducing product complexity through part count reduction. For the same engineering hours, there are few things to design, fewer things to analyze, fewer to transition to manufacturing. The result: more affordable design.
Though important, we can't wait for new legislation and trade agreements.  To make ourselves  more affordable we need to increase productivity of our invention/innovation and design engines while we work on the longer term stuff.
If you're an engineering leader who wants more about invention/innovation and or design productivity, send me an email at
and use the subject line to let me know which you're interested in. (Your contact information will remain confidential and won't be shared with anyone.  Ever.)
Together we can turn around the country's economy.
3 Responses to "I don't know the question, but the answer is jobs."