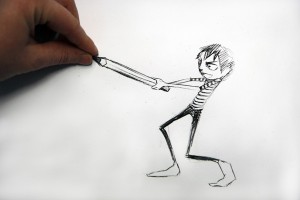 Seeing things as they are takes skill, but doing something about it takes courage. Want an example? Check out movie The Sixth Sense directed by M. Night Shyamalan.
At the start of the film Dr. Malcolm Crowe, esteemed child psychologist, returns home with his wife to find his former patient, Vincent Grey, waiting for him. Grey accuses Crowe of failing him and shoots Crowe in the lower abdomen, then shoots himself.
Cut to a scene three months later where Crowe councils Cole Sear, a troubled, isolated nine year old. Over time, Crowe gains the boy's trust. The boy ultimately confides in Crow telling him he "Sees dead people that walk around like regular people." (Talk about seeing things as they are.) Later in the film the boy confides in his mother telling her what he sees. Understandably, his mother does not believe him. But imagine his pain when, after sharing his disturbing reality, his only parent does not support him. (And we get upset when co-workers don't support our somewhat off-axis realities.) And imagine his courage to move forward.
It takes level 5 courage for him to talk about such a disturbing reality, but Cole Sear is up to the challenge. He so badly wants to change his situation, to shape his future, he does what it takes. Not just talk, but actions. He defines his new future and defines the path to get there. He defines his fears and decides to work through them to create his new future where he is no longer afraid of the dead who seek him out. He changes his go-forward behavior. Instead of hiding, he talks with the dead, understands what they want from him, and helps them. He walks the path.
Ultimately he creates a future that works for him. He convinces his mom that his reality is real; she believes him and supports him and his reality. (That's what we all want, isn't it?) His relationships with the dead are non-confrontational and grounded in mutual respect. His stress level is back to mortal levels. His reality is real to people he cares about. But Cole Sear is not done yet.
***** SPOILER ALERT – IF YOU HAVE NOT SEEN THE SIXTH SENSE, READ NO FURTHER ****
In Shyamalan's classic finish-with-a-twist style, Cole Sear, the scared nine year old boy with his bizarre reality, masterfully convinces his psychologist that his I see dead people reality is real and convinces the psychologist that he's dead. All along, when the psychologist thought he was helping the boy see things as they are, the boy was helping the psychologist. The little boy who saw dead people convinced the dead psychologist that his seemingly bizarre reality was real.
As Cole demonstrated, seeing things for what they are and doing something about can make a difference in someone's life.