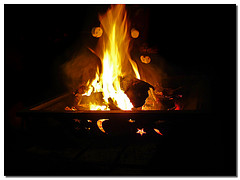 That behavior was not appropriate; you did not finish that project on time; you made a mistake; you did not do it right; you did not build consensus; you did not do enough. Create an improvement plan, eliminate the shortfall, make up lost ground, re-attain the schedule. All negative, all day. I could scream.
We dissect people, identify areas for improvement, and put together plans to  improve weaknesses. How depressing. How demoralizing. How de-energizing. We demand folks become more of what they aren't at the expense of what they are. And, to top it off, it takes a lot of our energy to manage this systematized negativity. We spend all our time on the folks who didn't, can't, or won't. This is crazy.
Now, imagine a parallel universe of positivity. All positive, all day. Say nothing negative is the mantra. Ignore the negative and let it wither. Strengthen strengths. Help folks be more of what they are. Focus on the best performers. Ignore the can'ts, don'ts, and won'ts. This is a respectful universe, a supportive universe, a happy universe, but also a highly profitable and productive one. A good place to work and a great place to make money. Is this crazy?
It may be crazy. But do an experiment and see for yourself. Next time you feel the urge to snuff out bad behavior, ignore it. And instead, stoke the blaze of fabulous behavior. Throw diesel on it, throw gas on it, do all you can to make it spread. Send the fire trucks to draw a crowd. Roast marshmallows. You'll have fun and it'll feel good. I guarantee you'll get more fabulous behavior. And the bad behavior? Who cares.  Let it wither.
5 Responses to "A Parallel Universe of Positivity"