Posts Tagged 'Top Blogger'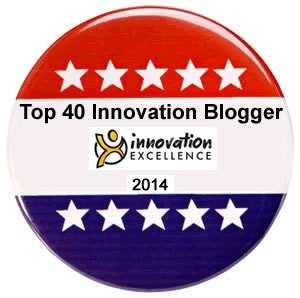 Innovation Excellence announced their top innovation bloggers of 2014, and, well, I topped the list!
The list is full of talented, innovative thinkers, and I'm proud to be part of such a wonderful group.  I've read many of their posts and learned a lot.  My special congratulations and thanks to: Jeffrey Baumgartner, Ralph Ohr, Paul Hobcraft, Gijs van Wulfen, and Tim Kastelle.
Honors and accolades are good, and should be celebrated. As Rick Hanson knows (Hardwiring Happiness) positive experiences are far less sticky than negative ones, and to be converted into neural structure must be actively savored.  Today I celebrate.
Writing a blog post every week is challenge, but it's worth it.  Each week I get to stare at a blank screen and create something from nothing, and each week I'm reminded that it's difficult.  But more importantly I'm reminded that the most important thing is to try. Each week I demonstrate to myself that I can push through my self-generated resistance.  Some posts are better than others, but that's not the point. The point is it's important to put myself out there.
With innovative work, there are a lot of highs and lows.  Celebrating and savoring the highs is important, as long as I remember the lows will come, and though there's a lot of uncertainty in innovation, I'm certain the lows will find me.  And when that happens I want to be ready – ready to let go of the things that don't go as expected.  I expect thinks will go differently than I expect, and that seems to work pretty well.
I think with innovation, the middle way is best – not too high, not too low.  But I'm not talking about moderating the goodness of my experiments; I'm talking about moderating my response to them. When things go better than my expectations, I actively hold onto my  good feelings until they wane on their own.  When things go poorly relative to my expectations, I feel sad for a bit, then let it go.  Funny thing is – it's all relative to my expectations.
I did not expect to be the number one innovation blogger, but that's how it went. (And I'm thankful.)  I don't expect to be at the top of the list next year, but we'll see how it goes.
For next year my expectations are to write every week and put my best into every post.  We'll see how it goes.