Archive for the 'Trust' Category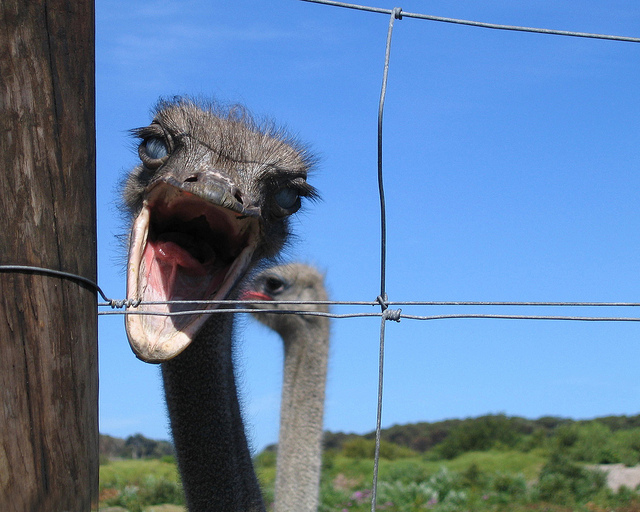 It's easy to complain about how things are going, especially when they're not going well. But even with the best intentions, complaining doesn't move the organization in a new direction.  Sometimes people complain to attract attention to an important issue. Sometimes it's out of frustration, sometimes out of sadness and sometimes out of fear, but it's never the best mechanism.
If the intention is to convey importance, why not convey the importance by explaining why it's important? Why not strip the issue of its charge and use an approach and language that help people understand why it's important? It's a simple shift from complaining to explaining, but it can make all the difference. Where complaining distracts, explaining brings people together. And if it's truly important, why not take the time to have a give-and-take conversation and listen to what others have to say? Instead of listening to respond, why not listen to understand?
If you're not willing to understand someone else's position it's not a conversation.
And if you're on the receiving end of a complaint, how can you learn to see it as a sign of importance and not as an attack? As the receiver, why not strip it of its charge and ask questions of clarification? Why not deescalate and move things from complaint to conversation? Understanding is not agreeing, but it still a step forward for everyone.
When two sides are divided, complaining doesn't help, even if it's well-intentioned. When two sides are divided and there's strong emotion, the first step is to take responsibility to deescalate. And once emotions are calmed, the next step is to take responsibility to understand the other side.  At this stage, there is no requirement to agree, but there can be no hint of disagreement as it will elevate emotions and set progress back to zero.  It's a slow process, but when the issues are highly charged, it's the fastest way to come together.
If you're dissatisfied with the negativity, demonstrate positivity. If you want to come together, take the first step toward the middle. If you want to generate the trust needed to move things forward, take action that builds trust.
If you want things to be different, look inside.
Image credit – Ireen2005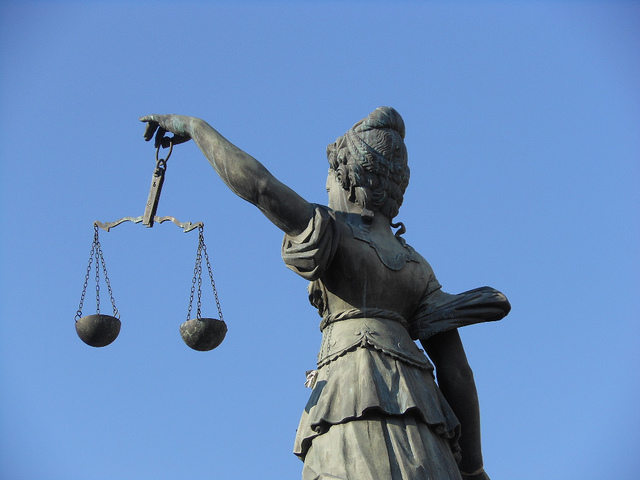 It's not the tools. Innovation is not hampered by a lack of tools (See The Innovator's Toolkit for 50 great ones.), it's hampered because people don't know how to start.  And it's hampered because people don't know how to choose the right tool for the job. How to start? It depends. If you have a technology and no market there are a set of tools to learn if there's a market. Which tool is best? It depends on the context and learning objective. If you have a market and no technology there's a different set of tools.  Which tool is best?  You guessed it.  It depends on the work. And the antidote for 'it depends' is good judgement.
It's not the process.  There are at least several hundred documented innovation processes. Which one is best? There isn't a best one – there can be no best practice (or process) for work that hasn't been done before. So how to choose among the good practices? It depends on the culture, depends on the resources, depends on company strengths. Really, it depends on good judgment exercised by the project leader and the people that do the work.  Seasoned project leaders know the process is different every time because the context and work are different every time. And they do the work differently every time, even as standard work is thrust on them. With new work, good judgement eats standardization for lunch.
It's not the organizational structure. Innovation is not limited by a lack of novel organizational structures. (For some of the best thinking, see Ralph Ohr's writing.) For any and all organizational structures, innovation effectiveness is limited by people's ability to ride the waves and swim against the organizational cross currents. In that way, innovation effectiveness is governed by their organizational good judgement.
Truth is, things have changed. Gone are the rigid, static processes. Gone are the fixed set of tools. Gone are the black-and-white, do-this-then-do-that prescriptive recipes. Going forward, static must become dynamic and rigid must become fluid. One-size-fits-all must evolve into adaptable. But, fortunately, gone are the illusions that the dominant player is too big to fail. And gone are the blinders that blocked us from taking the upstarts seriously.
This blog post was inspired by a recent blog post by Paul Hobcraft, a friend and grounded innovation professional. For a deeper perspective on the ever-increasing complexity and dynamic nature of innovation, his post is worth the read.
After I read Paul's post, we talked about the import role judgement plays in innovation.  Though good judgement is not usually called out as an important factor that governs innovation effectiveness, we think it's vitally important. And, as the pressure increases to deliver tangible innovation results, its importance will increase.
Some open questions on judgement: How to help people use their judgement more effectively? How to help them use it sooner? How to judge if someone has the right level of good judgement?
Image credit – Michael Coghlan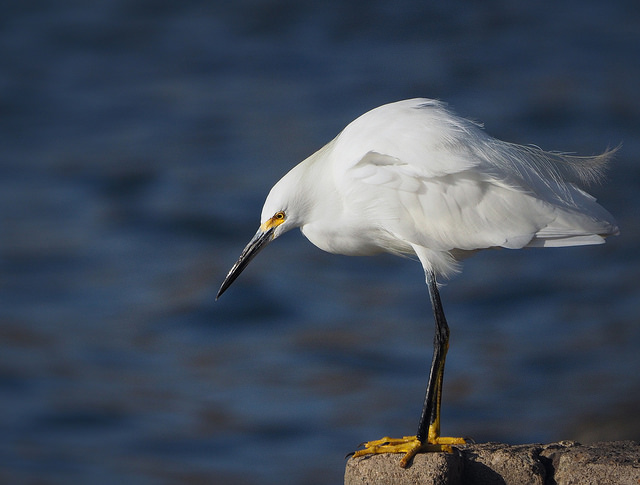 What if you're asked to do something you know isn't right? Not from an ethical perspective, but from a well-read, well-practiced, world-thought-leader perspective? What if you know it's a waste of time? What if you know it sets a dangerous precedent for doing the wrong work for the right reason? What if the person asking is in a position of power? What if you know they think they're asking for the right work?
Do you delay and make up false reasons for the lack of progress? Do you get angry because you expect people in power know what they're doing? Does your anger cause you to double-down on delay?  Or does it cause you to take a step back and regroup? Or do you give them what they ask for, knowing it will make it clear they don't know what they're doing?
What if you asked them why they want what they want? What if when you really listened you heard their request for help? What if you recognized they weren't comfortable confiding in you and that's why they didn't tell you they needed your help? What if you could see they did not know how to ask? What if you realized you could help? What if you realized you wanted to help?
What if you honored their request and took an approach that got the right work done? What if you used their words as the premise and used your knowledge and kindness to twist the work into what it should be? What if you realized they gave you a compliment when they asked you to do the work? Better still, what if you realized you were the only person who could help and you felt good about your realization?
As subject matter experts, it's in our best interest to have an open mind and an open heart.  Sure, it's important to hang onto our knowledge, but it's also important to let go our strong desire to be right and do all we can to improve effectiveness.
If we are so confident in our knowledge, shouldn't it be relatively easy to give others the benefit of the doubt and be respectful of the possibility there may be a deeper fundamental behind the request for the "wrong work"?
As subject matter experts, our toughest job is to realize we don't always see the whole picture and things aren't always as they seem. And to remain open, it's helpful to remember we became experts by doing things wrong. And to prioritize effectiveness, until proven otherwise, it's helpful to assume everyone has good intentions.
Image credit — Ingrid Taylar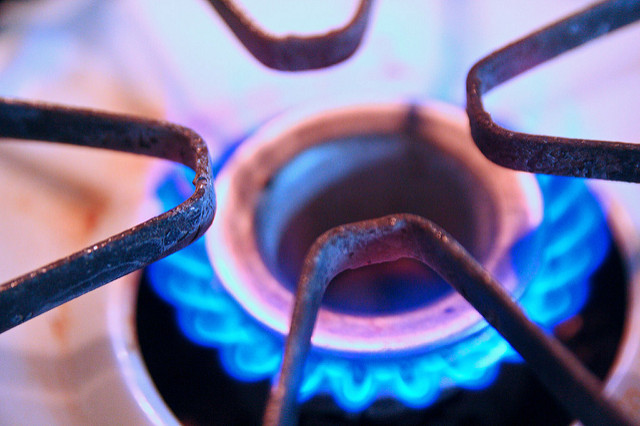 When companies want to innovate, there are three things they can change – products, services and business models. Products are usually the first, second and third priorities, services, though they have a tighter connection with customer and are more lasting and powerful, sadly, are fourth priority.  And business models are the superset and the most powerful of all, yet, as a source of innovation, are largely off limits.
It's easy to improve products. Measure goodness using a standard test protocol, figure out what drives performance and improve it. Create the hard data, quantify the incremental performance and sell the difference.  A straightforward method to sell more – if you liked the last one, you're going to like this one. But this is fleeting. Just as you are reverse engineering the competitors' products, they're doing it to you. Any incremental difference will be swallowed up by their next product. The half-life of your advantage is measured in months.
It's easy for companies to run innovation projects to improve product performance because it's easy to quantify the improvement and because we think customers are transactional. Truth is, customers are emotional, not rational. People don't buy performance, they buy the story they create for themselves.
Innovating on services is more difficult because, unlike a product, it's not a physical thing. You can't touch it, smell it or taste it.  Some say you can measure a service, but you can't. You can measure its footprints in the sand, but you can't measure it directly. All the click data in the world won't get you there because clicks, as measured, don't capture intent – an unintentional click on the wrong image counts the same a premeditated click on the right one. Sure, you can count clicks, but if you can't count the why's, you don't have causation. And, sure, you can measure customer satisfaction with an online survey, but the closest you can get is correlation and that's not good enough.  It's causation or bust.  You've got to figure out WHY they like your services. (Hint – it's the people who interface directly with your customers and the latitude you give them to advocate on the customers' behalf.)
Where services are difficult to innovate, the business model is almost impossible. No one is quite sure what the business model actually is an in-the-trenches-way, but they know it's been responsible for the success of the company, and they don't want to change it. Ultimately, if you want to innovate on the business model, you've got to know what it is, but before you spend the time and energy to define it, it's best to figure out if it needs changing.  The question – what does it look like when the business model is out of gas?
If you do what you did last time and you get less in return, the business model is out of gas.
Successful models are limiting. Just like with the Prime Directive, where Captain Kirk could do anything he wanted as long as he didn't interfere with the internal development of alien civilizations, do anything you want with the business model as long as you don't change it. And that's why you need external help to formally define the business model and experiment with it. The resource should understand your business first hand, yet be outside the chain of command so they can say the sacrilegious things that violate the Prime Directive without being fired.  For good candidates, look to trusted customers and suppliers.
To define the business model, use a simple block diagram (one page) where blocks are labelled with simple nouns and arrows are labelled with simple verbs. Start with a single block on the right of the page labelled "Customer" and draw a single arrow pointing to the block and label it.  Continue until you've defined the business model.  (Note – maximum number of blocks is 12.)  You'll be surprised with the difficulty of the process.
After there's consensus on the business model, the next step is to figure out how the environment changed around it and to identify and test the preferred evolutionary paths. But that's for another time.
Image credit – Steven Depolo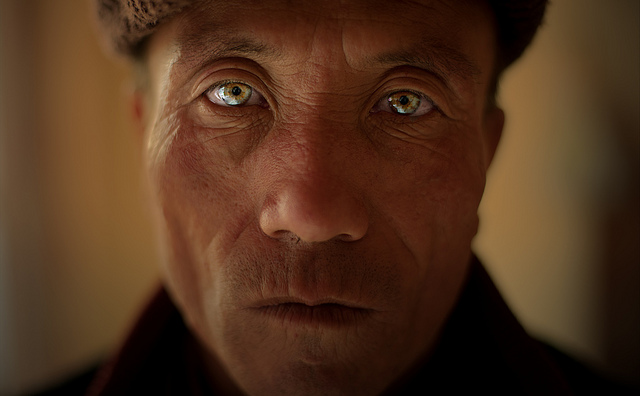 When doing work that's new, sometimes it seems the whole world is working against you. And, most of the time, it is.  The outside world is impossible to control, so the only way to deal with external resistance is to pretend you don't hear it. Shut your ears, put your head down and pull with all your might. Define your dream and live it. And don't look back.  But what about internal resistance?
Where external resistance cannot be controlled and must be ignored, internal resistance, resistance created by you, can be actively managed.  The best way to deal with internal resistance is to prevent its manufacture, but very few can do that. The second best way is to acknowledge resistance is self-made and acknowledge it will always be part of the innovation equation.  Then, understand the traps that cause us to create self-inflicted resistance and learn how to work through them.
The first trap prevents starting.  At the initial stage of a project, two unstated questions power the resistance – What if it doesn't work? and What if it does work?  If it doesn't work, the fear is you'll be judged as incompetent or crazy. The only thing to battle this fear is self-worth. If you feel worthy of the work, you'll push through the resistance and start.  If it does work, the fear is you won't know how to navigate success. Again, if you think you're worthy of the work (the work that comes with success), you and your self-esteem will power through the resistance and start.
Underpinning both questions is a fundamental of new work that is misunderstood – new work is different than standard work.  Where standard work follows a well-worn walking path, new work slashes through an uncharted jungle where there are no maps and no GPS. With standard work, all the questions have been answered, the scope is well established and the sequence of events and timeline are dialed in.   With standard work, everything is known up front. With new work, it's the opposite. Never mind the answers, the questions are unknown. The scope is uncertain and the sequence of events is yet to be defined. And the timeline cannot be estimated.
But with so much standard work and so little new work, companies expect people to that do the highly creative work to have all the answers up front. And to break through the self-generated resistance, people doing new work must let go of self-imposed expectations that they must have all the answers before starting.  With innovation, the only thing that can be known is how to figure out what's next. Here's a generic project plan for new work – do the first thing and then, based on the results, figure out what to do next, and repeat.
To break through the trap that prevents starting, don't hold yourself accountable to know everything at the start. Instead, be accountable for figuring out what's next.
The second trap prevents progress. And, like the first trap, resistance-based paralysis sets in because we expect ourselves to have an etched-in-stone project plan and expect we'll have all the answers up front.  And again, there's no way to have the right answers when the first bit of work must be done to determine the right questions. If you think you're worthy of the work, you'll be able to push through the resistance with the figure out what's next approach.
When in the middle of an innovation project, hold yourself accountable to figuring out what to do next. Nothing more, nothing less. When the standard work police demand a sequence of events and a timeline, don't buckle. Tell them you will finish the current task then define the next one and you won't stop until you're done.  And if they persist, tell them to create their own project plan and do the innovation work themselves.
With innovation, it depends. With innovation, hold onto your self-worth. With innovation, figure out what's next.
Image credit — Jonathan Kos-Read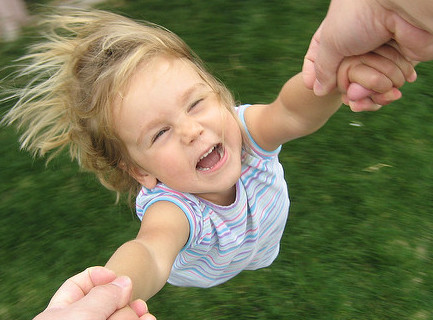 For those who lead projects and people, failure is always lurking in the background.  And gone unchecked, it can hobble. Despite best efforts to put a shine on it, there's still a strong negative element to failure.  No two ways about it, failure is mapped with inadequacy and error.  Failure is seen as the natural consequence of making a big mistake.  And there's a finality to failure.  Sometimes it's the end of a project and sometimes it's the end of a career.  Failure severely limits personal growth and new behavior.  But at least failure is visible to the naked eye.  There's no denying a good train wreck.
A fumble is not failure.  When something gets dropped or when a task doesn't get done, that's a fumble.  A fumble is not catastrophic and sometimes not even noteworthy.  A fumble is mapped with  a careless mistake that normally doesn't happen.  No real cause.  It just happens. But it can be a leading indicator of bigger and badder things to come, and if you're not looking closely, the fumble can go unnoticed. And the causes and conditions behind the fumble are usually unclear or unknown.  Where failure is dangerous because everyone knows when it happens, fumbles are dangerous because they can go unnoticed.
Floundering is not fumbling. With floundering, nothing really happens.  No real setbacks, no real progress, no real energy. A project that flounders is a project that never reaches the finish line and never makes it to the cemetery.  To recognize floundering takes a lot of experience and good judgment because it doesn't look like much. But that's the point – not much is happening.  No wind in the sails and no storm on the horizon.  And to call it by name takes courage because there are no signs of danger.  Yet it's dangerous for that very reason. Floundering can consume more resources than failure.
Fear is the fundamental behind failing, fumbling and floundering. But unlike failure, no one talks about fear. Talking about fear is too scary. And like fumbling and floundering, fear is invisible, especially if you're not looking.  Like diabetes, fear is a silent killer. And where diabetes touches many, fear gets us all. Fear is invisible, powerful and prolific.  It's a tall order to battle the invisible.
But where there's fun there can be no fear. More precisely, there can be no negative consequence of fear. When there's fun, everyone races around like their hair is on fire.  Not on fire in the burn unit way, but on fire in the energy to burn way. When there's fun people help each other for no reason. They share, they communicate and they take risks.  When there's fun no one asks for permission and the work gets done.  When there's fun everyone goes home on time and their spouses are happy.  Fun is easy to see, but it's not often seen because it's rare.
If there's one thing that can go toe-to-toe with fear, it's fun. It's that powerful. Fun is so powerful it can turn failure into learning.  But if it's so powerful, why don't we teach people to have fun? Why don't we create the causes and conditions so fun erupts?
I don't know why we don't promote fun.  But, I do know fun is productive and fun is good for business.  But more important than that, fun is a lot of fun.
Image credit – JoshShculz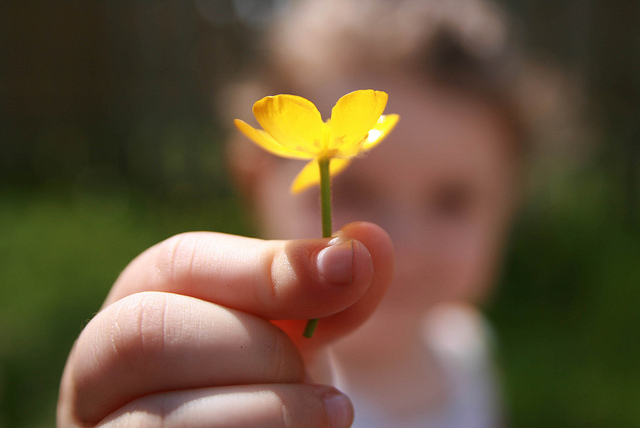 Expectations result from mental models and wants. When you have a mental model of a system and you want the system to behave in a way that fits your mental model, that's an expectation.  And when you want the system to behave differently than your mental model, that's also an expectation.  When the system matches your wants, the world is good.  And when your wants are out of line with the system, the world is not so good.
Speculation is not expectation. Speculation happens when you propose, based on your mental model, how the system will behave. With speculation, there's no attachment to the result, no wanting it to be one way or another. There's just watching and learning.  If the system confirms your mental model, the applicability of the model is reinforced (within this narrow context.) And when the system tramples your mental model, you change your mental model.  No attachment, no stress, no whining, no self-judgement.
When doing work that's new, system response is unknown. Whether the system will be exercised in a new way or it's an altogether new system, metal models are young and untested.  When it's the first time, speculation is the way to go. Come up with your best mental model, run the experiment and record the results.  After sitting in data, refine your mental model and repeat.   If your mental model doesn't fit the system, don't judge yourself negatively, don't hold yourself back, don't shy away.  Refine your mental model and build-test-learn as fast as you can.  And if your mental model fits the system, don't judge yourself in a positive way.  This was your first test and you don't understand the system fully.  Refine your model and test for a deeper understanding.  [Note – systems have been known to temporarily conform to mental models to obfuscate their true character.]
When doing work that's new, expectation gets in the way. If you expect your models to be right and they're not, you learning rate is slower than your expectations.  That's not such a big deal on its own, but the rippling self-judgement can be crippling. Your emotional state becomes fragile and it's difficult to keep pushing through the work. You doubt yourself and your abilities; you won't put yourself out there; and you won't propose radical mental models for fear of looking like you don't know what you're doing.  You won't run the right experiments and you never the understand the fundamental character of the system. You block your own learning.  If you expect your models won't to fit the system, you block your learning from the start.  Sometimes your lack of confidence blocks you from even trying. [Note – not trying is the only way to guarantee you won't learn.]
Within the domain of experiments, mental models and generic systems, it's relatively easy to see the wisdom of speculations and the perils of expectations, where wanting leads to judging and judging leads to self-blocking.  But it's not so easy to see in the domain of life where experiments are replaced with personal interactions and generic systems are replaced with everyday situations and mental models are ever-present.  But in both domains the rules and consequences are the same.
Just as in the lab, in day-to-day life expectations are dangerous.
Image credit – Dermot  O'Halloran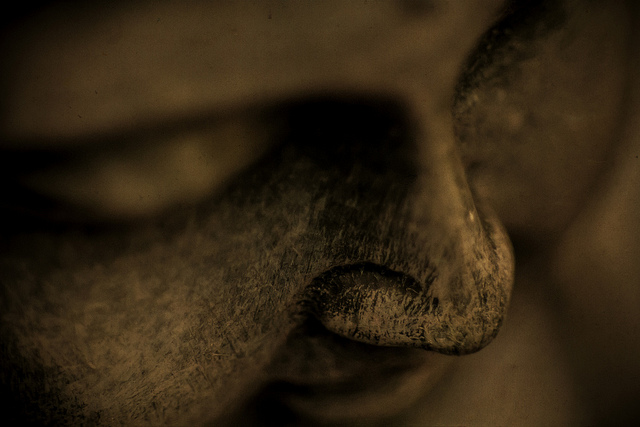 Anything that happens happens because of people, and anything that doesn't happen doesn't happen because of people.  Technology doesn't create itself, products don't launch themselves, companies don't build themselves and trust doesn't grow on its own.  Any kind of work, any kind of service, any kind of organizing – it's all done by people.
The productivity/quality movement has been good for factories – parts move in a repeatable flow and they're processed in repeatable ways by machines that chunk out repeatable output.  Design the process, control the inputs and turn the crank. Invest in the best machines and to do the preventative maintenance to keep them in tip-top shape.  Just follow the preventive maintenance (PM) schedule and you'll be fine.  But when the productivity/quality movement over-extended into the people domain, things don't go as well.
People aren't machines, and their work product is not cookie-cutter parts.  And, there's no standard PM schedule for people. We all know this, but we behave like people are machines – we design their work process, train them on it and measure their output. But machines are iron-based entities that don't have consciousness and people are carbon-based beings with full consciousness.  The best machines do what their told, but the best people tell you what to do.  Machines and people are fundamentally different, but how we run them is markedly similar.
Where machines need oil, people need empathy. And for empathy you need vulnerability and for that you need trust. But there's no standard PM schedule for trust.  There's no flowchart or troubleshooting protocol for helping people.  What work do you give them? It depends. When do you touch base and when do you leave them alone? It depends. How much responsibility do you give them? It depends.  With machines it's follow the PM schedule and with people – it depends.
Where machines wear out, people develop and grow. And to grow people you need to see them as they are and meet them where they are. And to do that you've got to see yourself as you are.  You can't give people what they need if you add to the drama with your reactivity and you can't discern their suffering from your projections if you're not grounded. How much time do you spend each day to learn to dampen your reactivity?  How much time do you spend to slow your monkey mind so you can see your projections?
With machines it's control the inputs and get what you got last time.  With people it's maybe; it depends; don't worry about how it will go; and why don't you try? Growing people is much more difficult than keeping machines running smoothly.  But, there is nothing more fulfilling than helping people grow into something they couldn't imagine.
Image credit – Benjamin Balazs
Hep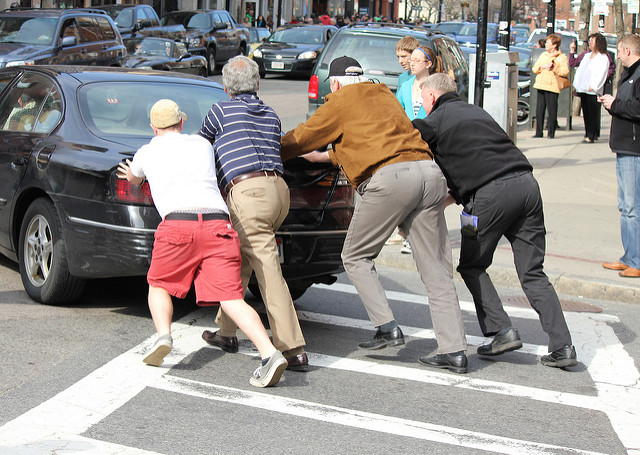 People ask why.
People buy products from people.
The right people turn activity into progress.
People want to make a difference, and they do.
People have biases which bring a richer understanding.
People use judgement – that's why robots don't run projects.
People recognize when the rules don't apply and act accordingly.
Business models are an interconnected collection of people processes.
The simplest processes require judgement, that's why they're run by people.
People don't like good service, they like effective interaction with other people.
People are the power behind the tools.  (I never met a hammer that swung itself.)
Progress is powered by people.
Image credit – las – intially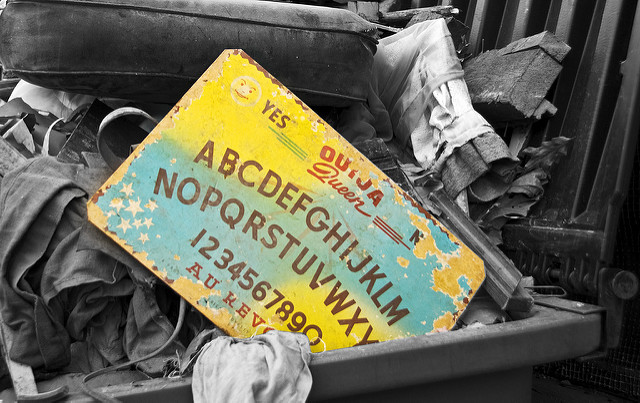 Once you have a project to work on, it's always a challenge to choose the first task.  And once finished with the first task, the next hardest thing is to figure out the next next task.
Two words to live by: Critical Path.
By definition, the next task to work on is the next task on the critical path.  How do you tell if the task is on the critical path?  When you are late by one day on a critical path task, the project, as a whole, will finish a day late.  If you are late by one day and the project won't be delayed, the task is not on the critical path and you shouldn't work on it.
Rule 1: If you can't work the critical path, don't work on anything.
Working on a non-critical path task is worse than working on nothing.  Working on a non-critical path task is like waiting with perspiration.  It's worse than activity without progress.  Resources are consumed on unnecessary tasks and the resulting work creates extra constraints on future work, all in the name of leveraging the work you shouldn't have done in the first place.
How to spot the critical path? If a similar project has been done before, ask the project manager what the critical path was for that project.  Then listen, because that's the critical path.  If your project is similar to a previous project except with some incremental newness, the newness is on the critical path.
Rule 2: Newness, by definition, is on the critical path.
But as the level of newness increases, it's more difficult for project managers to tell the critical path from work that should wait.  If you're the right project manager, even for projects with significant newness, you are able to feel the critical path in your chest.  When you're the right project manager, you can walk through the cubicles and your body is drawn to the critical path like a divining rod.   When you're the right project manager and someone in another building is late on their critical path task, you somehow unknowingly end up getting a haircut at the same time and offering them the resources they need to get back on track.  When you're the right project manager, the universe notifies you when the critical path has gone critical.
Rule 3: The only way to be the right project manager is to run a lot of projects and read a lot.  (I prefer historical fiction and biographies.)
Not all newness is created equal.  If the project won't launch unless the newness is wrestled to the ground, that's level 5 newness. Stop everything, clear the decks, and get after it until it succumbs to your diligence.  If the product won't sell without the newness, that's level 5 and you should behave accordingly.  If the newness causes the product to cost a bit more than expected, but the project will still sell like nobody's business, that's level 2.  Launch it and cost reduce it later.  If no one will notice if the newness doesn't make it into the product, that's level 0 newness. (Actually, it's not newness at all, it's unneeded complexity.)  Don't put in the product and don't bother telling anyone.
Rule 4: The newness you're afraid of isn't the newness you should be afraid of.
A good project plan starts with a good understanding of the newness.  Then, the right project work is defined to make sure the newness gets the attention it deserves.  The problem isn't the newness you know, the problem is the unknown consequence of newness as it ripples through the commercialization engine. New product functionality gets engineering attention until it's run to ground.  But what if the newness ripples into new materials that can't be made or new assembly methods that don't exist?  What if the new materials are banned substances?  What if your multi-million dollar test stations don't have the capability to accommodate the new functionality?  What if the value proposition is new and your sales team doesn't know how to sell it?  What if the newness requires a new distribution channel you don't have? What if your service organization doesn't have the ability to diagnose a failure of the new newness?
Rule 5: The only way to develop the capability to handle newness is to pair a soon-to-be great project manager with an already great project manager. 
It may sound like an inefficient way to solve the problem, but pairing the two project managers is a lot more efficient than letting a soon-to-be great project manager crash and burn.  After an inexperienced project manager runs a project into the ground, what's the first thing you do?  You bring in a great project manager to get the project back on track and keep them in the saddle until the product launches.  Why not assume the wheels will fall off unless you put a pro alongside the high potential talent?
Rule 6: When your best project managers tell you they need resources, give them what they ask for.
If you want to deliver new value to new customs there's no better way than to develop good project managers.  A good project manager instinctively knows the critical path; they know how the work is done; they know to unwind situations that needs to be unwound; they have the personal relationships to get things done when no one else can; because they are trusted, they can get people to bend (and sometimes break) the rules and feel good doing it; and they know what they need to successfully launch the product.
If you don't know your critical path, you don't know very much.  And if your project managers don't know the critical path, you should stop what you're doing, pull hard on the emergency break with both hands and don't release it until you know they know.
Image credit – Patrick Emerson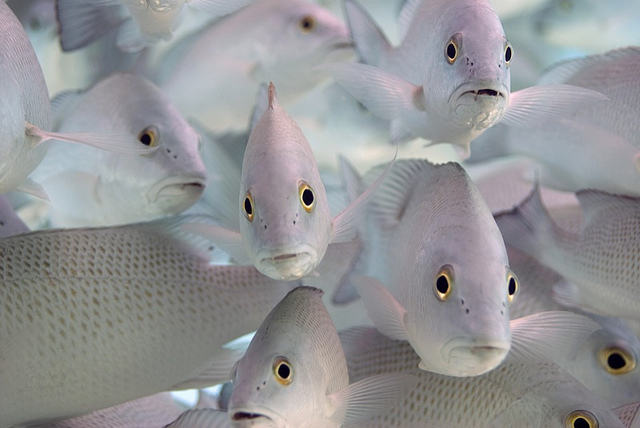 There are many different organizational structures, each with its unique set of strengths and weaknesses. The top-down organization has its strong alignment and limited flexibility while the bottom-up has its empowering consensus and sloth-like pace.  Which one's better?  Well, it depends.
The function-based organization has strong subject matter expertise and weak cross-function coordination, while the business unit-based organization knows its product, market and customers but has difficulty working east-west across product families and customer segments.  Is one better than the other?  Same answer- it depends.
The matrix organization has the best of both worlds – business unit and functional – and isn't particularly good at either.  And there's the ambidextrous organization that I don't pretend to understand.  If I had to choose one, which would I choose? It depends.
The best organizational structure depends on what you're trying to do, depends on the environmental context, depends on the organization's history and biases and the general state of organizational capability, capacity and profitability.  But that's not the whole picture because none of this is static.  All of this changes over time and it changes in an unpredictable way.  Because the best organizational structure depends on all these complicating factors and the factors change over time, there is never a "best" organizational structure.
Constant change has always been the dominant fundamental perturbing and disturbing our organizational structures.  But, as competition turns up the wick and the pace of learning builds geometrically, change's ability to influence our organizational structures has grown from disturbing to dismantling.
Change is the dominant fundamental, but its real power comes from the uncertainty it brings to the party.  Our tired, old organizational structures were designed to survive in a long-dead era of glacial change and rationed uncertainty.  And though our organizational structures were built in granite, the elevated sea levels of uncertainty are creating fissures in our inflexible organizational structures and profitability is leaking from all levels
If uncertainty is the disease, adaptability is the antidote.  The organization must continually monitor its environment for changes.  And when it senses an emerging shift, the organization it must move resources in a way that satisfies the new reality.  The organization structure shifts to fit the work.  The structure changes as the character of the projects change.  The organizational structure never reaches equilibrium; it survives through continual evolutionary loop of sense-change-sense.
I don't have a name for an organization like this, and I think it's best not to name it.  Instead, I think it's best to describe how it behaves.  It's a living organization that behaves like a living organism.  It wants to survive, so it changes itself based on changes in its environment.  It's an organization that self organizes.
Directionally, organizational structures should be less static and more dynamic, and they should evolve to fit the work.  The difficult part is how to define the explicit rules on how it should change, when it should change and how it decides.  But it's more than difficult to describe explicit rules, it's impossible.  In domains of high levels of uncertainty there can be no predictability and without predictability a finite set of explicit rules will not work.  The DNA of this living organization is implicit knowledge, evolutionary experimentation and personal judgement.
I'm not sure what to call this type of organizational structure, and I'm not exactly sure how to create one. But it sure sounds like a lot of fun.
Image credit — actor212