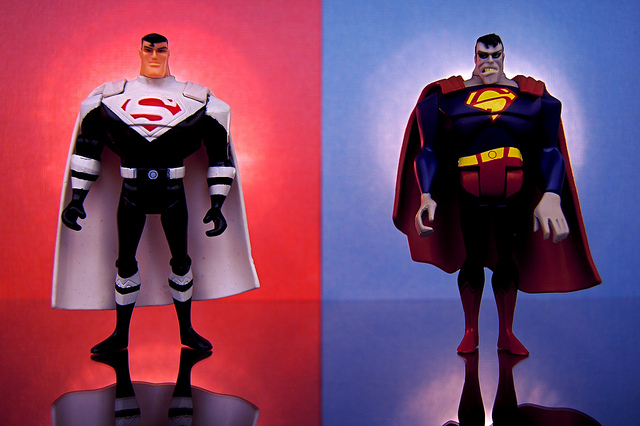 There are two domains – what is and what isn't. We're most comfortable in what is and we don't know much about what isn't. Neither domain is best and you can't have one without the other. Sometimes it's best to swim in what is and other times it's better to splash around in what isn't.  Though we want them, there are no hard and fast rules when to swim and when to splash.
Improvement lives in the domain of what is. If you're running a Six Sigma project, a lean project or a continuous improvement program you're knee deep in what is. Measure, analyze, improve, and control what is. Walk out to the production floor, count the machines, people and defects, measure the cycle time and eliminate the wasteful activities. Define the current state and continually (and incrementally) improve what is. Clear, unambiguous, measurable, analytical, rational.
The close cousins creativity and innovation live in the domain of what isn't. They don't see what is, they only see gaps, gulfs and gullies. They are drawn to the black hole of what's missing. They define things in terms of difference.  They care about the negative, not the image. They live in the Bizarro world where strength is weakness and far less is better than less. Unclear, ambiguous, intuitive, irrational.
What is – productivity, utilization, standard work. What isn't – imagination, unstructured time, daydreaming. Predictable – what is. Unknowable – what isn't.
In the world of what is, it's best to hire for experience.  What worked last time will work this time. The knowledge of the past is all powerful.  In the world of what isn't, it's best to hire young people that know more than you do. They know the latest technology you've never heard of and they know its limitations.
Improving what is pays the bills while creating what isn't fumbles to find the future. But when what is runs out of gas, what isn't rides to the rescue and refuels. Neither domain is better, and neither can survive without the other.
The magic question – what's the best way to allocate resources between the domains? The unsatisfying answer – it depends. And the sextant to navigate the dependencies – good judgement.
Image credit – JD Hancock