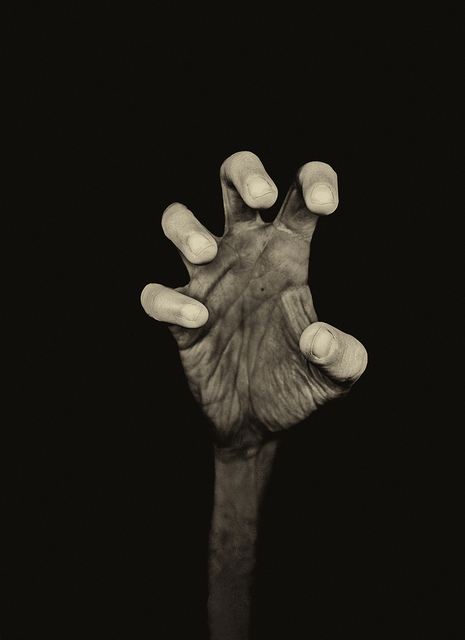 The past has past, never to come again.  But if you tell yourself old stories the past is still with you.  If you hold onto your past it colors what you see, shapes what you think and silently governs what you do.  Not skillful, not helpful.  Old stories are old because things have changed.  The old plays won't work. The rules are different, the players are different, the situation is different.  And you are different, unless you hold onto the past.
As a tactic we hold onto the past because of aversion to what's going on around us. Like an ostrich we bury our head in the sands of the past to protect ourselves from unpleasant weather buffeting us in the now.  But there's no protection. Grasping tightly to the past does nothing more than stop us in our tracks.
If you grasp too tightly to tired technology it's game over.  And it's the same with your tired business model – grasp too tightly and get run through by an upstart.  But for someone who wants to make a meaningful difference, what are the two things that are sacred? The successful technology and successful business model.
It's difficult for an organization to decide if the successful technology should be reused or replaced.  The easy decision is to reuse it.  New products come faster, fewer resources are needed because the hard engineering work has been done and the technical and execution risks are lower.  The difficult decision is to scrap the old and develop the new.  The smart decision is to do both.  Launch products with the old technology while working feverishly to obsolete it.  These days the half-life of technology is short.  It's always the right time to develop new technology.
The business model is even more difficult to scrap. It cuts across every team and every function.  It's how the company did its work.  It's how the company made its name. It's how the company made its money.  It's how families paid their mortgages.  It's grasping to the past success of the business model that makes it almost impossible to obsolete.
People grasp onto the past for protection and companies are nothing more than a loosely connected network of people systems.  And these people systems have a shared past and a good memory.  It's no wonder why old technologies and business models stick around longer than they should.
To let go of the past people must see things as they are.  That's a slow process that starts with a clear-eyed assessment today's landscapes. Make maps of the worldwide competitive landscape, intellectual property, worldwide regulatory legislation, emergent technologies (search YouTube) and the sea of crazy business models enabled by the cloud.
The best time to start the landscape analyses was two years ago, but the next best time to start is right now.  Don't wait.
Image credit – John Fife