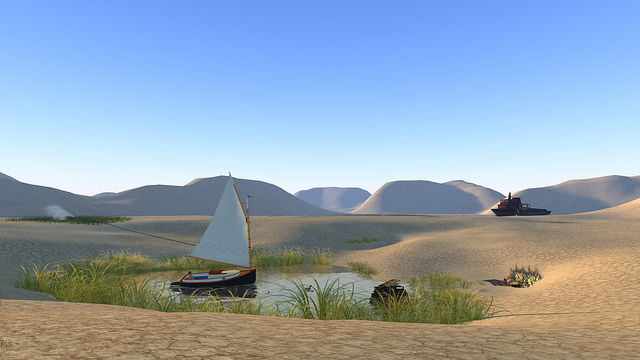 When it's time for new work, the best and smartest get in a small room to figure out what to do.  The process is pretty simple: define a new destination, and, to know when they journey is over, define what it looks like to live there.  Define the idealized future state and define the work to get there.  Turn on the GPS, enter the destination and follow the instructions of the computerized voice.
But with new work, the GPS analogy is less than helpful.  Because the work is new, there's no telling exactly where the destination is, or whether it exists at all.  No one has sold a product like the one described in the idealized future state.  At this stage, the product definition is wrong.  So, set your course heading for South America though the destination may turn out to be Europe.  No matter, it's time to make progress, so get in the car and stomp the accelerator.
But with new work there is no map.  It's never been done before.  Though unskillful, the first approach is to use the old map for the new territory.  That's like using map data from 1928 in your GPS.  The computer voice will tell you to take a right, but that cart path no longer exists.  The GPS calls out instructions that don't match the street signs and highway numbers you see through the windshield.  When the GPS disagrees with what you see with your eyeballs, the map is wrong.  It's time to toss the GPS and believe the territory.
With new work, it's not the destination that's important, the current location is most important.  The old sea captains knew this.  Site the stars, mark the time, and set a course heading.  Sail for all your worth until the starts return and as soon as possible re-locate the ship, set a new heading and repeat.  The course heading depends more on location than destination.  If the ship is east of the West Indies, it's best to sail west, and if the ship is to the north, it's best to sail south.  Same destination, different course heading.
When the work is new, through away the old maps and the GPS and channel your inner sea caption. Position yourself with the stars, site the landmarks with your telescope, feel the wind in your face and use your best judgement to set the course heading.  And as soon as you can, repeat.
Image credit – Timo Gufler.