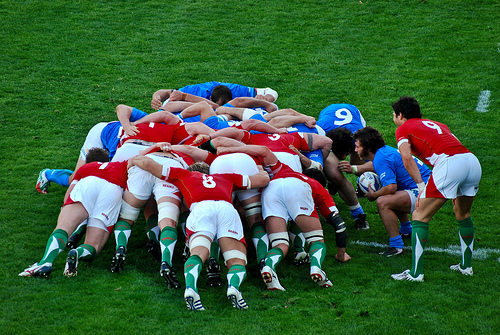 Regardless of industry, product, or country, we're in the people business.
Got a problem? Problems are solved by people, and our first word is usually – who. Who has fixed something like this before? Who can make the problem go away? Who has the chops to pull it off? Our first thought is about people.
Want something done?  Work doesn't do itself, people do work. Whether we want a wrench turned or a project run, our first thought is about people.
Need help? People help people. First thought – people.
Our businesses run on people. Factory workers are people, suppliers are people, leaders are people, and so are most managers. Day-to-day we are neighborhoods that make stuff and families that provide services. (Some of us spend more time with our coworkers than our families.)
But lately, in the name of productivity, there's an unnatural shift from people-thinking to machine-thinking.
Productivity is good, and we all need it. To get it, we standardize our work; we define step-wise business processes to mechanize; we create scripted approaches to drive out variability. All perfectly good machine-thinking, but we must be careful not to tip into a Frederick Taylor frenzy.
People are best at some things, and machines at others – we all know this. But we've got to keep it in front of us. Mechanize things that machines do best, and free up people to do more people-work – that's the ticket. But we spend far more corporate bandwidth mechanizing work than people-izing.
People-work is governed by choice, feelings, relationships, and creativity. Even the best six sigma squad can't mechanize that, nor should they try. But what if we invested in improving our people-work like we've invested in improving our machine-work? What if we allocated time for our people to improve their ability to decide? What if we had a sea of highly trained creativity experts (people) to help our people create? What if we taught our people how to foster deep personal relationships? Productivity squared.
We've got to remember that we're in the people business and we always will be – relationships, choice, decisions, and feelings cannot be taken out of our work. And we've got to learn how to improve our people-work.
Improving people-work is different than improving machine-work (that's for a different post), but the first tool in the toolbox is trust.