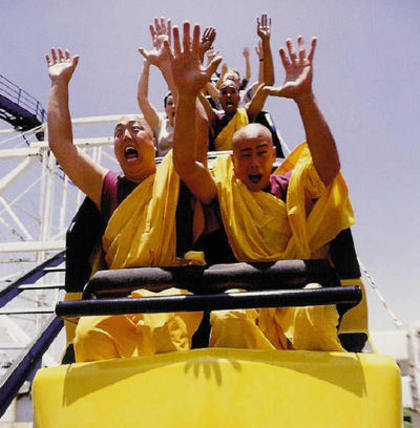 Your business is going away. Not if, when. Someone's going to make it go away and it might as well be you. Why not take control and make it go away on your own terms? Why not make it go away and replace it with something bigger and better?
Success is good, but fleeting. Like a roller coaster with up-and-up clicking and clacking, there's a drop coming. But with a roller coaster we expect it – there's always a drop. (That's what makes it a roller coaster.) We get ready for it, we brace ourselves. Half-scared and half-excited, electricity fills us, self-made fight-or-flight energy that keeps us safe. I think success should be the same – we should expect the drop.
More strongly we should manage the drop, make it happen on our terms. But that's going to be difficult. Success makes it easy to unknowingly slip into protecting-what-we-have mode. If we're to manage the drop, we must learn to relish it like the roller coaster. As we're ascending – on the way up – we must learn to create a healthy discomfort around success, like the sweaty-palm feeling of the roller coaster's impending wild ride.
A sky-is-falling approach won't help us embrace the drop. With success all around, even the best roller coaster argument will be overpowered. The argument must be based on positivity. Acknowledge success, celebrate it, and then challenge your organization to improve on it. Help your organization see today's success as the foundation for the future's success – like standing on the shoulders of giants. But in this case, the next level of success will be achieved by dismantling what you've built.
No one knows what the future will be, other than there will be increased competition. Hopefully, in the future, your stiffest competitor will be you.
One Response to "Be Your Stiffest Competitor"