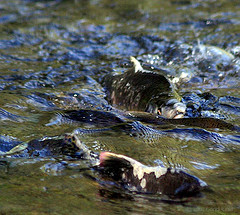 What happened to Vacation? It used to be a time to let go, to separate from work, to engage with family and friends, to work hard on something else. A time to refresh, to recharge, to renew. Not anymore – a shadow of its former self – paler, thinner, hunched over.
We still stay out of the office in a physical sense, but not in a virtual one. Our butts may be "on vacation" in that we sit someplace else, but our brains are not. They're still fully invested in office things, running in the background as our butts enjoy their vacation. We've got all the downside of being out of the office with none of the upside. It's almost worse than not having vacation. At least we don't fall behind when not on vacation.
Who's to blame? The technology? Our company? I don't think so. We are. Sure the technology makes it easy: cell coverage across the globe (accept in New Hampshire), fast connections, nice screens, and full thumb keyboards to crank out the email. But, if I'm not mistaken, those little pda bastards still have an off switch. If your thumb can pound the keys, it can certainly mash the off switch. Can't shut the damn thing off because you want to respond to the emergency work call? That's crap. Work emergencies don't exist, they're artificial, self-made.  We create them to increase the sense of urgency. Don't buy that? Here's another rationale: you're not giving others the opportunity to think while you're gone. You're telling them they're not capable of thinking for themselves, you're dismantling their self esteem, and hindering their growth.
Our company? Sure, they make it hard to let go, with implications that important projects must run seamlessly, that the ball must still be advanced. But, we're the ones who decide what our brains think about. We must decide to give others an opportunity to shine, to give away the responsibility to someone who can likely do it better. If you ask the company what they want when we return, they'll say they want us to come back recharged, ready to see things differently, ready to be creative, ready to be authentic. You cannot be that person without letting go. Without letting go, you'll return the same worn soul who can but raft downstream with the current instead of swimming violently against it.
Take responsibility for your vacation. Own it, tell others you own it. Tell them you're serious about letting go, working hard on something else, recharging. Use the all powerful Out of Office AutoReply as it was intended, to set everyone's expectations explicitly (including your own).
Out of Office AutoReply: I am on vacation.
11 Responses to "Who killed Vacation?"