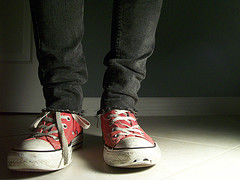 You're sitting in a big meeting discussing an issue, and consensus is nowhere to be found. There are two camps and you're in neither. And the big kahuna has marked her territory – you know where she stands. Frustrated by the lack of consensus she looks you in the eye and asks, "What do you think?" What do you do? Do you tell her what you really think or do you tell her what she wants to hear? More and more, it's the latter. We've become too conflict averse. We're so conditioned to avoid conflict we don't even consider saying what we think. We go right to what they want to hear. Sad.
I argue it's best to be authentic at all costs – tell them what you think and why. This approach does not minimize stress in the short term, like the next several days after the meeting. But it's the least stressful over the long haul. First, once the kahuna calms herself and thinks about what you said, she'll be happy you gave her the truth. You educated her. Even if she does not end up agreeing with your thinking, you gave her a broader perspective, a more complete view of the situation. She's smart. She'll see what you did for her. She'll come around. Second, and more importantly, you've been true to yourself – no internal stress whatsoever. You've been authentic. You've been you.
You're most effective when you're you. You're comfortable, you're genuine, and you're believable. And you're stressed as hell when you pretend. Not believable. Faking doesn't feel good, and it's hard. It's like wearing shoes that are two sizes too small – they're not yours, and they hurt. You're hobbled by them. People see the wincing as you shuffle through your day. They see the tension in your body. They know something is not right and they judge your words accordingly. Bad.
It takes big balls to be authentic. There are negative consequences. Some get pissed when you tell it like it is. So be it. And clear, focused thinking can be threatening. So be it. But the positives outweigh the negatives. Your organization is better for your thinking, and, most importantly you get to be you. Priceless.
3 Responses to "Be Authentic"